32nd Salon d'Automne: Call for Submissions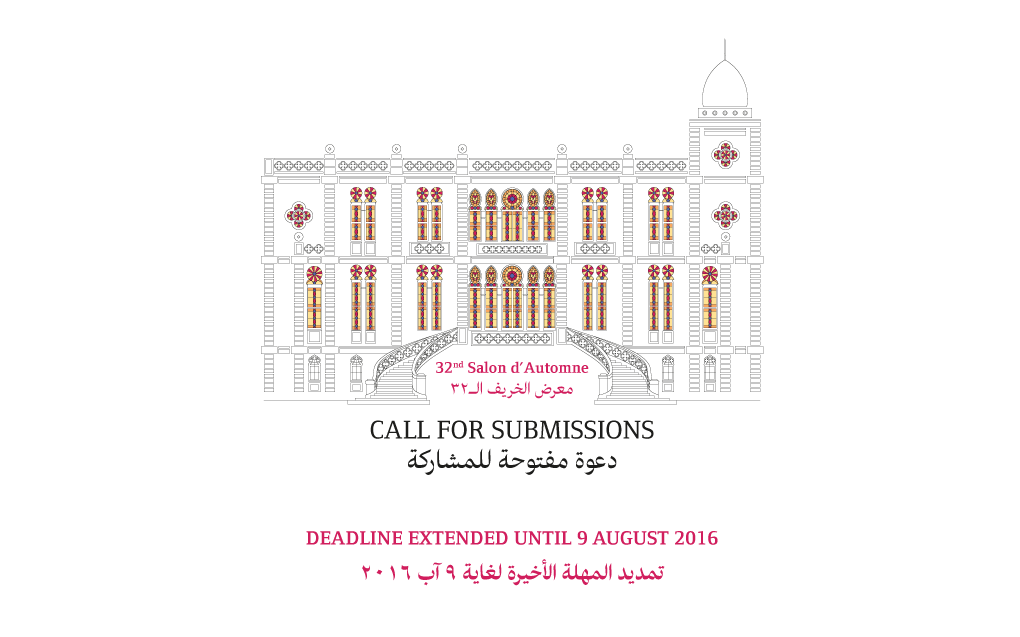 For the submission guidelines in Arabic, please click here.
To access the application form in Arabic, please click here.
The Sursock Museum is pleased to relaunch the Salon d'automne, an open call exhibition taking place regularly at the Sursock Museum since its opening in 1961. Now in its 32nd edition, this is the first Salon d'automne since the Museum's reopening in October 2015.
The call is open to artists working across all media and who live or work in Lebanon, regardless of their nationality. The application deadline has been extended to 9 August 2016. Submissions will be reviewed and selected for exhibition by an external jury, composed of prominent figures in the arts and cultural sphere.
The exhibition will take place from 17 November 2016 to 13 February 2017 in the Special Exhibitions Hall, an 800-square meter exhibition space, part of the Museum's new premises. It will be curated by Nora Razian, the Sursock Museum's Head of Programs and Exhibitions, and Yasmine Chemali, the Museum's Head of Collections.
Applications must be filled in and sent electronically.
You can access the application form here.
If you need help filling the application, you can come to the Sursock Museum for assistance on Thursdays from 12:00 to 21:00 and Fridays from 10:00 to 18:00.
Please read on for more information on eligibility and submission guidelines.
On Wednesday 20 July, from 10:00 to 12:00, the Sursock Museum will hold a Q&A session about the application process. All interested applicants are welcome to attend.
Eligibility
Artists from all nationalities are eligible to apply, but they must live or work in Lebanon.
Up to two works per artist may be submitted. Works in all media are accepted, but they must have been produced during or after the year 2015. You can submit a work in progress for consideration, as long as it will be completed by 30 September 2016.
Artists working collaboratively are eligible to apply, as long as they fulfill the criteria above.
Deadline
The deadline for applications has been extended to 9 August 2016 at midnight, Beirut time (GMT+3).
Visual documentation
You may submit up to 20 images and links to video or audio works to represent your practice.
Only work(s) produced during or after the year 2015 will be considered. All images should be JPEG in RGB mode, with a maximum file size of 5MB. No other formats will be accepted.
Images of both your previous and your submitted work(s) should be uploaded to your personal Dropbox folder. You may upload up to 20 images in total. Please remember to name any uploaded images of previous works by SURNAME, FIRST NAME, PREVIOUS, and a NUMBER from 1-20. For example: SMITH, JOHN, PREVIOUS 01.jpg. Uploaded images of submitted works should be named SURNAME, FIRST NAME, SUBMITTED_WORK TITLE, and a NUMBER from 1-20. For example: SMITH, JOHN, SUBMITTED_UNTITLED 01.jpg. This number should correspond with the image information on your electronic application form. Images should be JPEG in RGB mode, with a maximum file size of 5MB. No other formats will be accepted.
If your previous or submitted work or documentation involves moving image or sound, please upload it to YouTube, Vimeo, or Dropbox, and paste links in the relevant boxes in the application form. Each clip must be no longer than 5 minutes long and must be labelled so that it is easily identifiable as your work. You may submit a mixture of images and videos but only a maximum of 20 examples of your practice in total.
Please bear in mind that the judging panel will be making their selection from the visual material submitted.
Additional material
Applicants must supply a 500-word artist statement and upload a one page A4 CV. Alternatively, you may also submit a statement that someone else has written on your behalf, or a newspaper/press article that has been written about your article. Please do not send additional catalogues, photographic, or other material in support of your application to the Museum, as it cannot be reviewed by the selectors. It is also not possible to return any such materials to you.
Confirmation of receipt of application material
You will receive an email confirmation that your application has been received.
Notification of the jury's decision
Successful applicants will be notified by email in early October 2016. Unsuccessful applicants will be notified shortly after that.
Enquiries
For all enquiries, please email submissions@sursock.museum or call +961 1 202 001.