Special Program
Acoustic Cities: London-Beirut
Panel Discussion and Launch
In collaboration with Optophono, the Institute for Global Prosperity, University College London, the RELIEF Centre, and Theatrum Mundi
Thursday 25 April, 18:00 to 21:00
In English
Free admission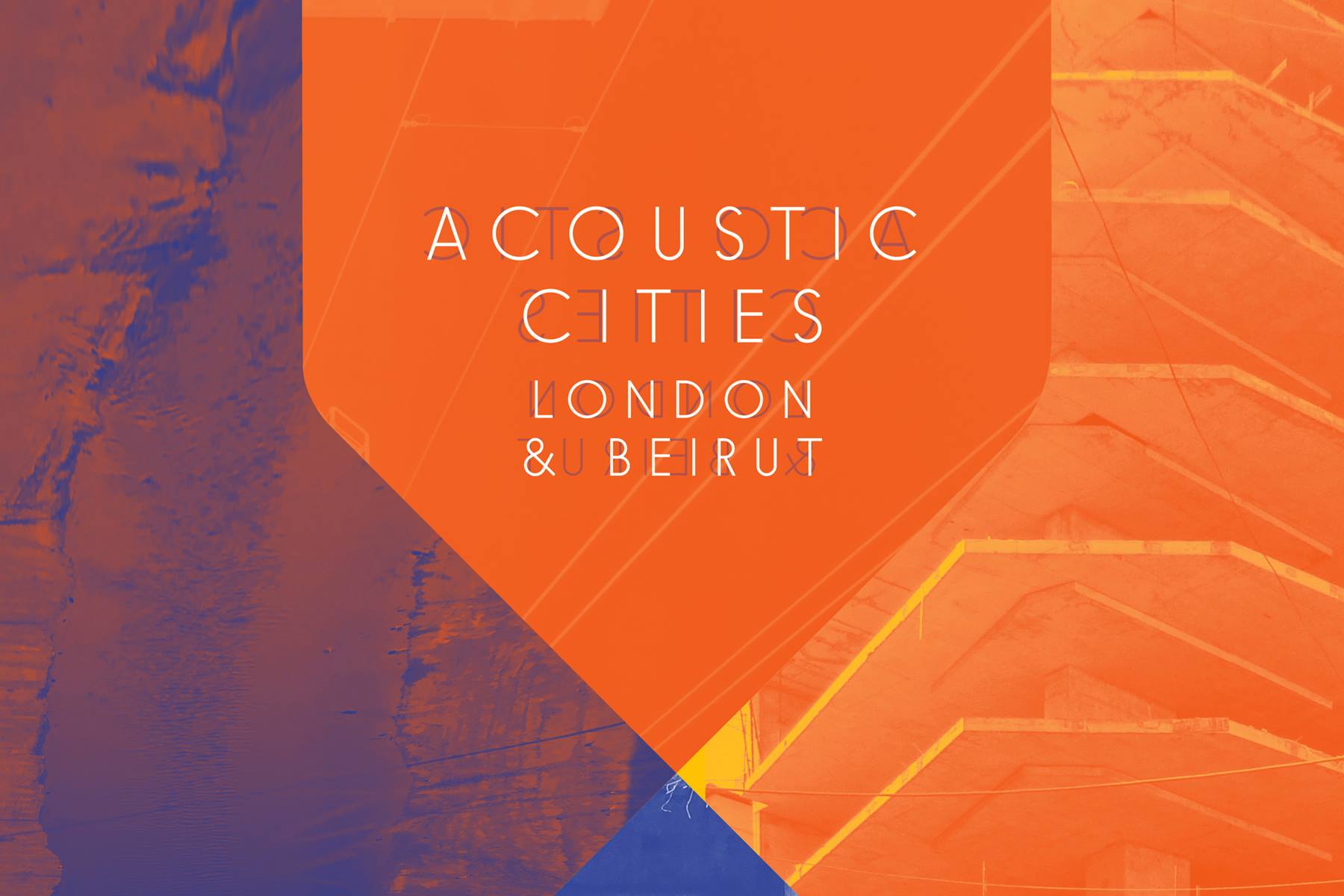 In a city in which noise can often be all-encompassing, how can we find ways to listen to things that are hidden, stories that are unheard, and forms of life at risk of disappearing?
Join us for the launch of an edition of sound pieces by Optophono, which sounds out the spatial traces of memories, cultures, and bodies ingrained into the physical fabric of two cities: Beirut and London. To mark this occasion, sound pieces will be played and performed on the Museum esplanade, and there will be a panel discussion with Joan Baz, Merijn Royaards, Youmna Saba, Mhamad Safa, and Christabel Stirling, who will discuss their pieces.
Acoustic Cities: London-Beirut is a collection of works by artists and scholars from Lebanon and the UK. It is a collaboration between the Institute for Global Prosperity, University College London (UCL); the RELIEF Centre; Recomposing the City; Theatrum Mundi; and Optophono.
Each the works encodes a methodology for listening and making audible things that have otherwise been hidden or silent – whether through activating spaces acoustically, listening technologically beyond the surface of the daily lifeworld, or asking for testimonies otherwise unspoken.
The works offer listeners ways of hearing the richness of their acoustic environments and language to challenge its problems. In doing so, they help to frame sound as a shared concern and a shared resource to design and to benefit from.
This event is co-presented by Optophono, the Institute for Global Prosperity, UCL, the RELIEF Centre, and Theatrum Mundi.
Artists in this edition include: Nathalie Harb, Merijn Royaards, Chrissy Stirling, Nadim Mishlawi, Mhamad Safa, Youmna Saba, Omaya Malaeb, Joan Baz, John Bingham-Hall, Gerard Gormley, and Gascia Ouzounian.
Program
18:00              Event start
18:30              Performance of 1.2 Seconds by Youmna Saba                   
19:00              Panel discussion with Joan Baz, Merijn Royaards, Youmna Saba, Mhamad Safa, and Christabel Stirling. Moderated by John Bingham-Hall.
Howayda Al-Harithy is Professor of Architecture and Urban Design at the Department of Architecture and Design (ArD) at the American University of Beirut (AUB). She joined AUB in 1994 and served as Chair of ArD from 2003 to 2006 and from 2009 to 2012. Her professional engagement has recently focused on three projects in which she is the lead designer: the Urban Sustainable Development Strategy for Saida in Lebanon and the Central Area Plan and the Rehabilitation of the Al-Mughaisileh Neighborhood in al-Madina al-Munawara, Saudi Arabia.
Joan Baz is a Lebanese graphic designer and artist based in Beirut. Mainly focused on illustration, printmaking, and animation, her work explores oral history, social practices, transmission, and memory. Her recent project CD-R is an investigative audio platform probing topics such as memory, displacement, and the built environment through voice notes, interviews, and collected and produced sounds.
John Bingham-Hall is Director of Theatrum Mundi (TM) and Honorary Senior Lecturer at UCL STEaPP. With TM, he has led programs on cultural infrastructure, sonic urbanism, urban commons, and choreographing urban mobility. He has held research posts at LSE Cities and UCL STEaPP and an associate lectureship at CSM. He has a multi-disciplinary academic background, holding a BMus (Music) from Goldsmiths, University of London and an MSc (Advanced Architectural Studies). His Ph.D. (Architectural Space and Computation) from the UCL Bartlett School of Architecture focused on hyperlocal media, mapping relationships between urban form, communication technologies, and the neighborhood public sphere. His ongoing research interest is in the ways urban design shapes the public lives of cities, linking study of and through technology, performance, media, and infrastructure.
Gascia Ouzounian is Associate Professor of Music at the University of Oxford. She is co-director of Recomposing the City, a group that brings together sound artists, architects, and urban designers in exploring sound in urban environments. She is the artistic director of Optophono, a label that publishes interactive music and sound art.
Merijn Royaards is a maker-of-things from sound and cities, guided by convoluted movements through music, art, and architecture. He currently works primarily as a DJ-performer and he has recently submitted Altered States, a Ph.D. thesis and installation series exploring the state altering effects of sound and space and movement.
Youmna Saba is a musician and researcher. Her work tackles the relationship between songwriting and narrative constructions. She has released four albums to this day and is currently exploring in a new solo project the intertwining of electronic treatments and Arabic aesthetics. Youmna holds a master's degree in musicology, and is an instructor at Antonine University.
Mhamad Safa is an architect, composer, and sound artist. He was a fellow at Ashkal Alwan's Home Works Program (2017-2018), and is currently an MA student at the Centre for Research Architecture at Goldsmiths, University of London. His work revolves around the critique of contemporary spatiality and the politics of sound within institutionalized and militarized environments.
Christabel Stirling is a researcher in ethnomusicology and sound studies. She recently completed a Ph.D. at Oxford University looking at the role of affect and the body in the making of musical publics. She also DJs and is affiliated with the research groups Recomposing the City and Sound Making Space.