Film Program
All the while watching
Thursday 9 May, 19:00 to 20:45
Saturday 11 May, 16:00 to 18:00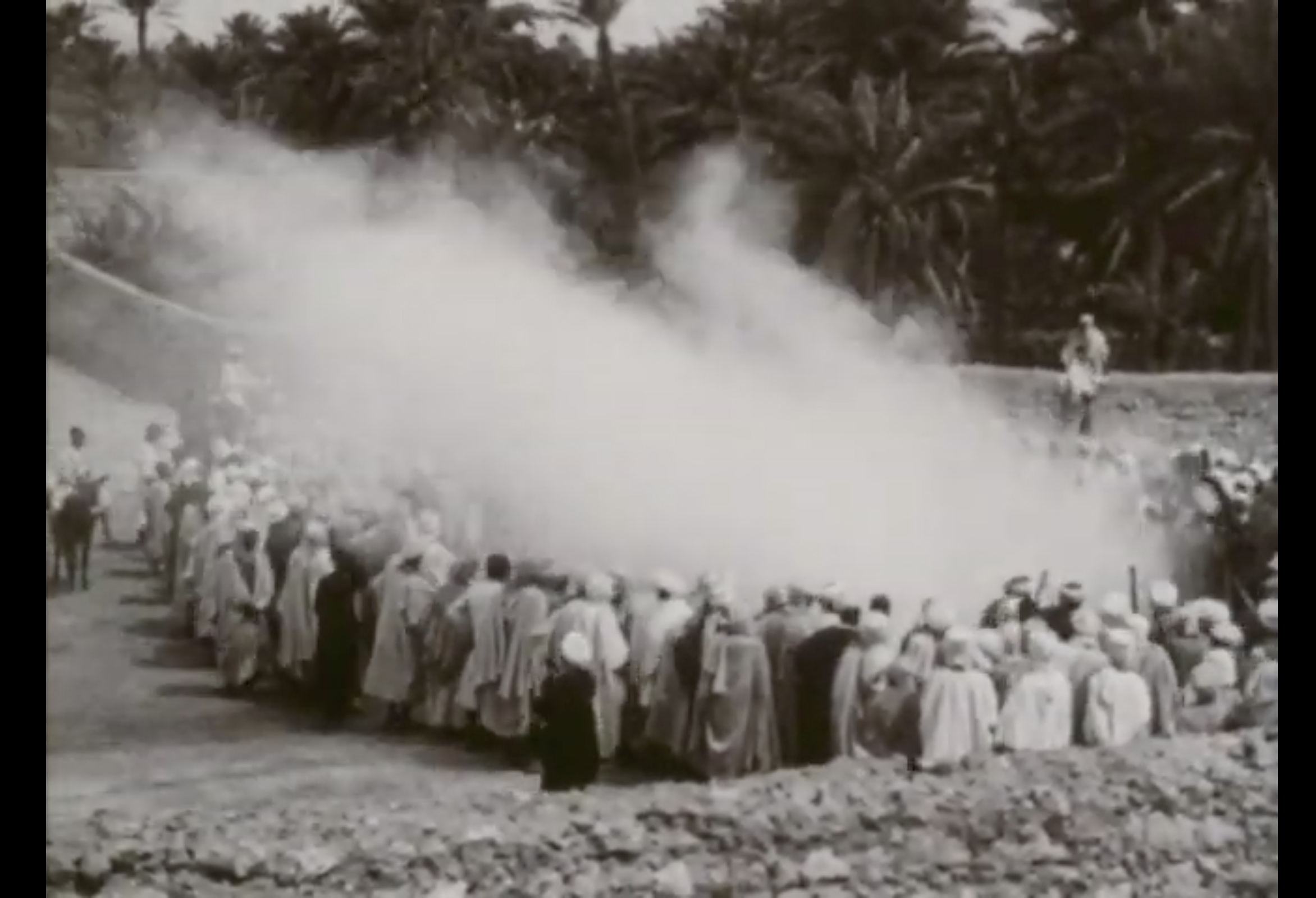 La Zerda ou le chant de l'oubli (Zerda and the Songs of Forgetting)
1982
Courtesy of the artist
Dramaturgy is not only about seizing; it's about creating without overwriting.
Through its photographic production, the orientalist dream factory was a first attempt towards the dramaturgy of images.
While failing, this first attempt was also succeeding.
Although it wouldn't grasp the true, the crude, and the raw, it did nevertheless track places where to fashion. And ways to remain plausible, Aristotles' poetic principle of verisimilitude.
We say it failed from a moral and from an aesthetic perspective, the moment it presented itself as true.
In order to "seize without overwriting," the image should not lean much to one side – the true – or to the other – the fashioned.
Join us for a two-day screening program with a selection of films by Dawawine, a collective for cinema, literature, and performing arts.
The three films in the program materialize different aesthetic experiences, and converge towards the desire formulated by novelist and filmmaker Assia Djebar, "to carry one's own memory all the while watching."
In Few of Us (Mūsų nedaug), the actress is incorporated into the scenery of the Sayan Mountains, while the director Sarunas Bartas waits for a drama that may or may not manifest. In XII - Salita all'Olimpo, the collective Zapruder filmmakersgroup summons a traditional heroic game and triggers its urban dynamics. In La Zerda ou le chant de l'oubli, Assia Djebar takes on colonial archives as incomplete reels. 
This film program is organized in parallel to the exhibition La Fabrique des illusions : Collection Fouad Debbas et commentaires contemporains, curated by François Cheval and Yasmine Chemali, on view from 22 February to 12 May 2019.
Thursday 9 May, 19:00 to 20:30
Few of Us (Mūsų nedaug)
Dir. Sarunas Bartas, 1996
105'
Silent
Featuring Katerina Golubeva
Sound by Vladimir Golovnitski
Few of Us is a Lithuanian movie where a young woman travels to the Sayan Mountains of Siberia, and lives with the Tolofars, a nomadic tribe, a forsaken nation, less than two hundred living souls forced to an undesired sedentary life by the Soviet regime.
Sarunas Bartas (b. 1964 in Siailial, Lithuania) started to produce movies in 1990, at the dissolution of the Soviet Union. His films draw on themes of  exhaustion, poverty, loneliness, illegal immigration, vagrancy, and trafficking. He developed a production studio called Studija Kinema. Leos Carax said, "With his gaze, he embraces the faces, the landscapes, the buildings that surround him, with an attention and fervor that grasps what can still be salvaged from our time."
Saturday 11 May, 16:00 to 18:00
To mark the culmination of the film program, there will be a discussion with Dawawine, Zapruder Filmmakersgroup, and the public.
La Zerda ou le chant de l'oubli (Zerda and the Songs of Forgetting)
Dir. Assia Djebar, 1982
In Arabic and French
57'
Written by Assia Djebar et Malek Alloula
Music by Ahmed Essyad
This film is a four score poem based on the archives of the Institut National d'Audiovisuel (INA). Assia Djebar makes her own construction with images of the colonial Maghreb from 1912 to 1942. The soundtrack blends together poetry, recitations, and experimental music, and raises up other images of the crushed Maghreb, those of the many langages in Algeria, and the muted voices of women throughout history.
"I made the decision to make a first film (The Women's Nouba of Mount Chenoua), not knowing really if I'm a filmmaker, I think in November 1975: because it was the day of Pasolini's death. (...) His relation to popular poetry, to the spoken dialects of these regions, which he has passed in a certain way on the screen, is what I felt concerned about (…)"
La Zerda et les Chants de l'oubli was presented a single time in 1982 on RTA, the Algerian TV channel, and it was awarded « Best Historical Film » by the Berlin Festival  in January 1983.
Assia Djebar (b. 1936, Cherchell, Algeria)is a novelist, translator, and filmmaker, well-known for her feminist and post-colonial views on Algerian society. Since her first novel La Soif published at the age of 21, her writings are often focused on the creation of a genealogy of Algerian women.
She was elected member of L'Académie française in 2005. For the entire body of her work, she was awarded the 1996 Neustadt International Prize for Literature, and was often named as a contender for the Nobel Prize for Literature.
XII - Salita all'Olimpo
Zapruder Filmmakersgroup, 2016
13'
Salita all'Olimpo is part of the project Zeus Machine (2016), which takes on the mechanism of mythological narratives by drawing on themes of cliché and folklore through the myth of Hercules, the mythological hero famous for the labors he endured to win his place in Olympus. Hercules is associated with strength and invincibility; his character as a fragile, fallible human being is mostly misunderstood. The artists give voice to the legendary hero's humanity, seeing it in actions performed by common heroes in their everyday lives. This project was exhibited as a site-specific installation in September 2017 at the MAXXI Museum.
Zapruder Filmmakersgroup, formed in 2000, is made up by David Zamagni, Nadia Ranocchi, and Monaldo Moretti, with the sound collaboration of Francesco 'Fuzz' Brasini. Their lively productions rely on an artisanal practice and inquisitive spirit. The group's film-projects are often flexible cinematic devices, which they define as Chamber Cinema: an incarnated environment and disembodied theatre. Their work was presented and awarded at the MAXXI Museum in 2016.