Talk
ARP Talks: Lorenzo Trombetta and Jacopo Gallico
Cartographing the Bekaa
In partnership with ARP–ALBA-University of Balamand
Thursday 23 November, 19:00 to 20:30
In English
Free admission
Spaces limited. First-come, first-served.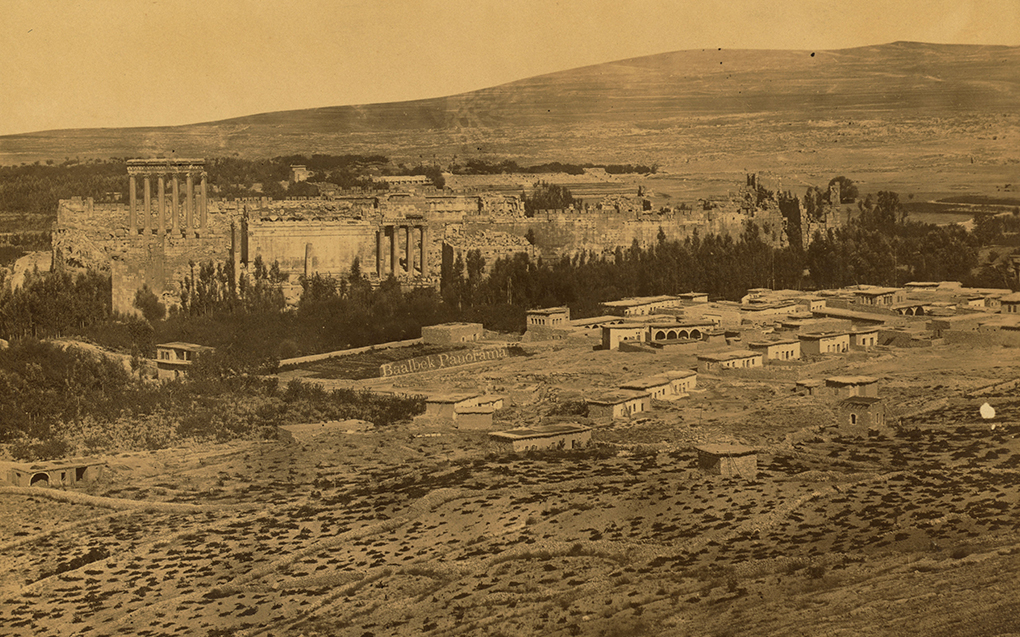 Aerial view of the temple ruins of Ba'labakk
1880-90
Library of Congress, LOT 13551, no. 27.
The process of describing a geographical space is always a subjective exercise as it reflects the author's perception – and that of the community the author belongs to – of the territory linked to the surrounding tangible and intangible environments. The Bekaa valley seems to be – more than other Lebanese provinces – the result of a continuous compromise among subjective perceptions, expressed not only by the indigenous local communities, but also by exogenous national and regional actors. This talk by Lorenzo Trombetta aims to shed the light on these multi-layered panorama of perceptions, elaborated by various political, military, cultural, and socioeconomic entities.
Following the talk, Trombetta will be in conversation with Jacopo Gallico.
Lorenzo Trombetta is a researcher and journalist with a Ph.D. in the Contemporary History of Syria. He is the Middle East correspondent for the Italian news agency ANSA, and the author of several titles on contemporary Syria, including Siria. Dagli ottomani agli Asad. E oltre (Syria: From the Ottomans to the Assads, and Beyond), published by Mondadori University in 2014.
Jacopo Gallico is an architect and graduate of Sapienza University, Rome. He has been a member of the Rome-based architectural collective Stalker since 1999, for which he co-curated the international art project "Egnatia: A Path of Displaced Memories" from 2002-2005, and developed the project Kurds on the Map as a form of sensitive mapping of the Kurdish diaspora in Europe. In 2006, he founded Osservatorio Nomade in Berlin. He has collaborated with the Haus der Kulturen der Welt, Kunst-Werke, the Venice Biennale, Fondazione Adriano Olivetti, and Palais de Tokyo, among others.
About ARP-ALBA
Artistic Research Practices (ARP) is a program of critical study and of cross-disciplinary practice at ALBA that develops research through a series of roundtables. The program explores contemporary practices by inviting artists, curators, and critics to share their research. ARP recently launched the Bekaa Project, initiated by Jacopo Gallico.