Special Program
On Etel Adnan: Book Launch and Panel Discussion
Monday 27 August, 18:00 to 21:00
In English
Free admission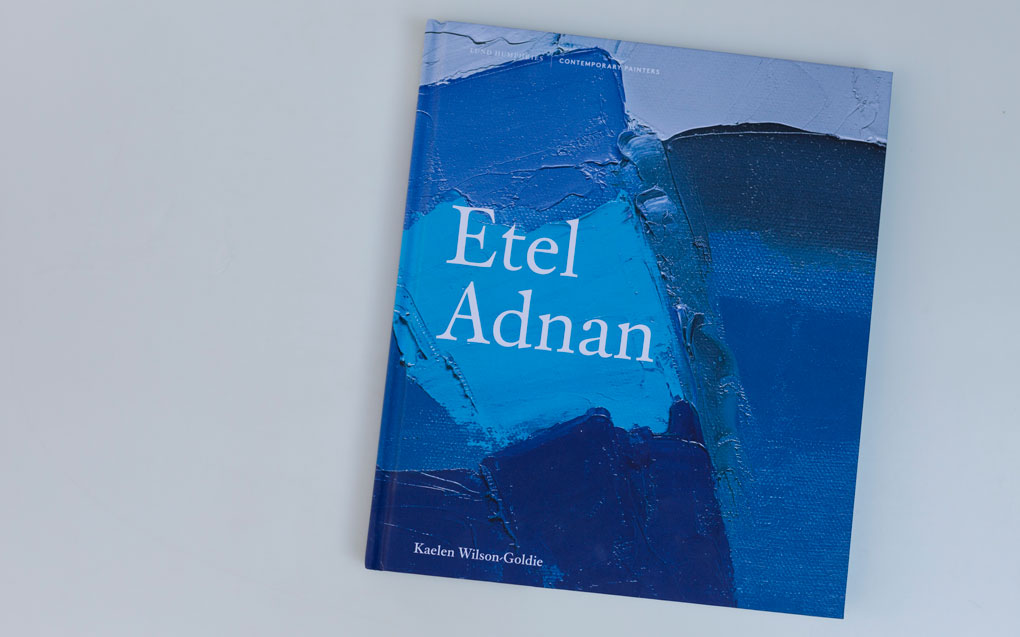 Photo: Christopher Baaklini
Join us for the launch of Etel Adnan by Kaelen Wilson-Goldie. To mark the occasion, Kaelen Wilson-Goldie will be in conversation with Yasmine Chemali, Joana Hadjithomas, Khalil Joreige, Andrée Sfeir-Semler, and Fawwaz Traboulsi, from 18:00 to 19:00.
Etel Adnan is a book about the importance of painting in the wider work of an artist better known for her writing. Born in Beirut in 1925, Adnan began writing poems as a student. Her early verse imagined an erotic encounter between the sun and the sea. Later, poetry became a powerful tool of anti-war protest, when Adnan was living in the United States. It wasn't until she was thirty-four that Adnan, as the result of a provocation, began experimenting with the stubs of old pastel crayons on scraps of paper and canvas. A vocabulary of abstract forms and colors emerged so fully and spontaneously in Adnan's work that it shocked her friends and colleagues. This was in 1959. Adnan has been painting prodigiously ever since, always working flat on a table, squeezing her colors straight from the tube, using a palette knife to cut and slash her by-now familiar forms of a circle for the sun, a triangle for a mountain, and a line for the horizon separating sea from sky. Over nearly six decades, Adnan has made hundreds, possibly thousands of paintings while experimenting with tapestries and leporellos and continuing to write poetry, plays, essays, and one of the most explosive novels of the Lebanese civil war, Sitt Marie Rose. Her painting is like a form of calisthenics, the ritual mark-making of a writer and thinker exercising her hand. Her canvases have come to function as modern-day talismans, objects to cherish for their capacity to hold the beauties and horrors of the world in balance. Etel Adnan is the first book about Adnan's work to follow the development of her painting through the complex terrain of her life and times, in close relationship to her many other modes of making. The fourth in a series of books on contemporary painters, it makes the case for Adnan's central place in the history of ideas about what painting does in the world today, and why it matters.
The book will be available for purchase at the Sursock Museum Store.
Kaelen Wilson-Goldie is a writer based in Beirut and New York. A contributing editor for Bidoun, she writes regularly for Artforum, Bookforum, and Aperture. For ten years, she covered arts and culture in Lebanon and the wider region for The Daily Star. Since 2016, she has been an editor for tamawuj.org, the online journal of the thirteenth Sharjah Biennial, organized by Christine Tohme. Wilson-Goldie has taught in the Department of Fine Art and Art History at the American University of Beirut and in the School of Visual Arts at the Académie Libanaise des Beaux-Arts (ALBA). She currently teaches in the MFA Art Writing Program at the School of Visual Arts in New York. Etel Adnan, published by Lund Humphries, is her first book.
Yasmine Chemali is the Head of Collections at the Sursock Museum. She graduated from the École du Louvre with a focus on preventive conservation and Islamic arts. From 2011 to 2014, she was the collection manager of The Fouad Debbas Collection, a photographic collection from the mid-19th and first-half of the 20th century that she now curates at the Sursock Museum through a cycle of exhibitions. At the Sursock Museum, Yasmine is responsible for studying the collection, and ensuring that it is kept in optimal climate-controlled conditions for its preservation.
Joana Hadjithomas and Khalil Joreige collaborate as filmmakers and artists, producing cinematic and visual artwork that intertwine. For the last 15 years, they have focused on the images, representations, and the writing of history, questioning the fabrication of imaginaries in the region and beyond. Their work has been exhibited all around the world, including the Guggenheim, New York, US; the Centre Georges Pompidou, Paris, France; Jeu de Paume, Paris, France; Whitechapel Gallery, London, UK; as well as at numerous biennales, including the Gwangju Biennale, the Sharjah Biennial, the Istanbul Biennial, and the Venice Biennial. In 2017, they were awarded the Marcel Duchamp Prize. They directed ISMYRNA (2016), a conversation with Etel Adnan as seen through the personal stories of Joana and Etel weaving a background to the radical changes that took place in the region after the fall of the Ottoman Empire.
Andrée Sfeir-Semler is an art historian who founded her eponymous gallery in Germany in 1985. Twenty years later, in 2005, she opened a second gallery in Beirut, transforming a defunct factory into the first white cube space in the Middle East. She studied History and History of Art at the American University of Beirut as well as at the Sorbonne University in Paris under Pierre Bourdieu. She earned her Ph.D. in 1980 at the University of Bielefeld. Sfeir-Semler Gallery has been representing artists who concentrate in their practice on conceptual and minimal art. Since 2003, the gallery has focused on contemporary art from the Arab World, and has been instrumental in launching and developing the careers of numerous artists from the region.
Fawwaz Traboulsi is a visiting professor of Political Science and History at the American University of Beirut. He is a fellow of St. Antony's College, Oxford, and the Wissenschaftskolleg zu Berlin. Previously, he has been a visiting professor at New York University, the University of Michigan, Columbia University, and Vienna University. His twenty books and numerous lectures, papers, and articles have dealt with history, politics, liberation and social movements, political philosophy, memoirs, folklore, and art in the Arab World. Traboulsi's latest translations include Edward Said's Out of Place (2003), Humanism and Democratic Critique (2005), and On Late Style (2015), as well as Antonio Gramsci's Notes on Italian History (2017). Traboulsi's recent publications includes A History of Modern Lebanon (2007, 2012) Al-Dimuqratiyah Thawra (Democracy Is a Revolution, 2011), Hareer wa Hadeed (On Silk and Iron, From Mount Lebanon to the Suez Canal, 2013), Al-Tabaqat al-Ijtima'iyyah wa-l-Sulta al-Siyassiyyha fi Luban (Social Classes and Political Power in Lebanon, 2016), and Damm al-Akhawayn, Al-`Unf Fil Hurub al-Ahliyah (On Violence in Civil Wars, 2017). Traboulsi, a long-time journalist, is the editor of the quarterly cultural journal Bidayat, founded in spring 2012.