Special Program
An evening with Jamil Molaeb
Concert, film screening, and conversation
Thursday 21 March, 19:00 to 20:30
In Arabic
Free admission
Spaces-limited. First-come, first-served.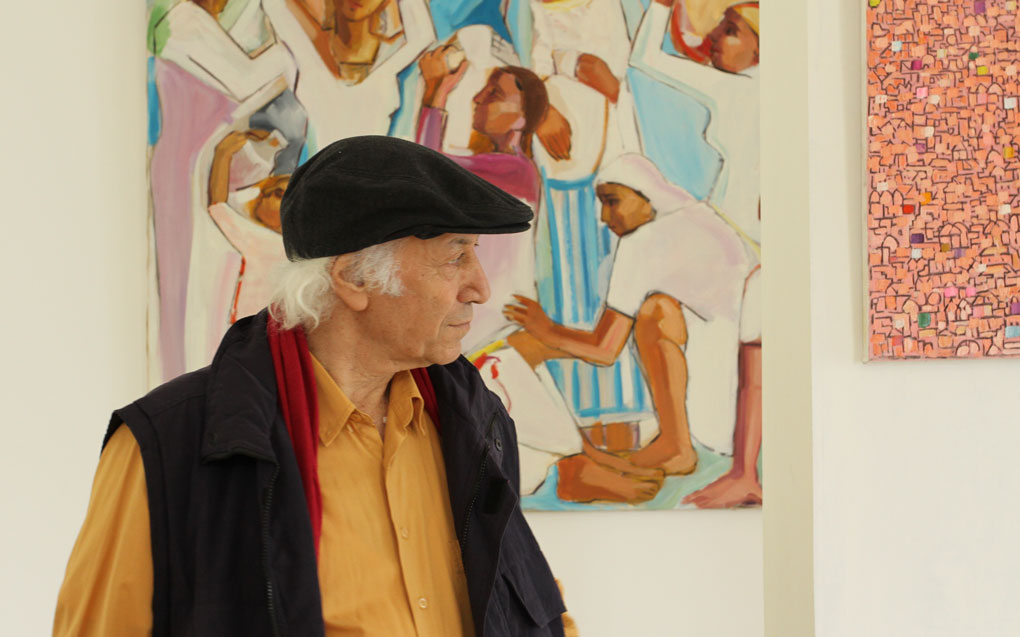 An Artist From Lebanon: Jamil Molaeb (film still)
2018
Courtesy of the artist
Join us for an evening with artist Jamil Molaeb. The evening's program consists of a chamber music concert with Ribal Molaeb and Tanja Sonc, followed by a screening of An Artist From Lebanon: Jamil Molaeb, directed by Bahij Hojeij, and a conversation between Jamil Molaeb and Maha Sultan.
Program
19:00 | Performance
Violin and Viola chamber music concert
With Ribal Molaeb and Tanja Sonc
W.A.Mozart (1756-1791) Dou for Violin and Viola in G-Major – Allegro
Bohuslav Martinu (1890-1959) Madrigal for Violin and Viola
Robert Fuchs (1847-1927) Barcarolle for Violin and Viola
Johan Halvorsen (1864-1935) Passacaglia for Violin and Viola
19:30 | Screening
An Artist From Lebanon: Jamil Molaeb, 2018
Dir. Bahij Hojeij
23'24"
In Arabic with English subtitles
20:00 | Conversation
Jamil Molaeb in conversation with Maha Sultan
Jamil Molaeb (b. 1948, Lebanon) graduated from the Académie libanaise des Beaux-Arts (Alba) in 1972 and received an M.A. from the Pratt Institute in New York. He obtained a Ph.D. degree in Art Education from the University of Ohio in 1979. He first exhibited at the Sursock Museum in 1966, and was later awarded the Special Painting Prize during the 18th Salon d'Automne in 1995. His work has been widely exhibited, including in Lebanon at Galerie Janine Rubeiz, in Algeria at the Ministry of Tourism from 1978 to 1980, at the Pratt Institute in Brooklyn, New York in 1987. In 2005, his work was exhibited in Brushes for Feathers, organized by Galerie Janine Rubeiz for the benefit of the Lebanese Foundation of the National Library at the Sursock Museum. Molaeb has been participating in several sculpture symposia since 1999, mainly in Lebanon. In 2003, he took part in the International Sculpture Symposium of Bahrain-Manama. Many art books on Molaeb's oeuvre were published by Fine Arts Publishing, Beirut. His work is permanently found at Galerie Janine Rubeiz in Beirut. He lives and works in Lebanon.
Bahij Hojeij is a director and actor, known for Zennar el nar (2004), Good Morning (2018), and Here Comes the Rain (2010). Since 1990, he is a professor of cinema at the Lebanese University's Institute of Fine Arts.
Maha Sultan holds a Ph.D. in Art History and currently teaches at the Lebanese University's Institute of Fine Arts. She has been an art critic for Al Hayat newspaper since 1989, and is a founding member of the Lebanese Association of Art Critics (ALCA). Sultan has also published a number of books on art history and art criticism.
Ribal Molaeb studied at the Mozarteum University Salzburgin Austria, and later received his M.A. at the University for Music and Performing Arts. Molaeb has performed recitals in a number of venues around Europe, including the Musikverein in Vienna. He is a member of Daniel Barenboim's West-Eastern Divan Orchestra since 2010. In the summer of 2015, he founded the Molaeb Festival For Chamber Music and Fine Arts, which takes place at the Jamil Molaeb Museum. Currently, he is the artistic director of the SUMITO Festival in Switzerland.
Tanja Sonc belongs to the young generation of gifted Slovene violinists. She has received numerous awards and first prizes at national and international competitions, including the Brahms Competition (Austria, 2011) and the New Stars Competition. Tanja started her music education at the age of five at the Academy of Music in Ljubljana. She continued at the Mozarteum in Salzburg and finished her studies at the Zürich University of the Arts in Switzerland. She is currently a member of the Swiss Zürich Chamber Orchestra. As a soloist, Tanja Sonc has performed with several orchestras around Europe. In 2016, she founded the Sonc Festival, a chamber music festival in Slovenia.