Talk
Filming Revolution: Talk and Screenings
Thursday 2 to Saturday 4 February
In English and Arabic
Free admission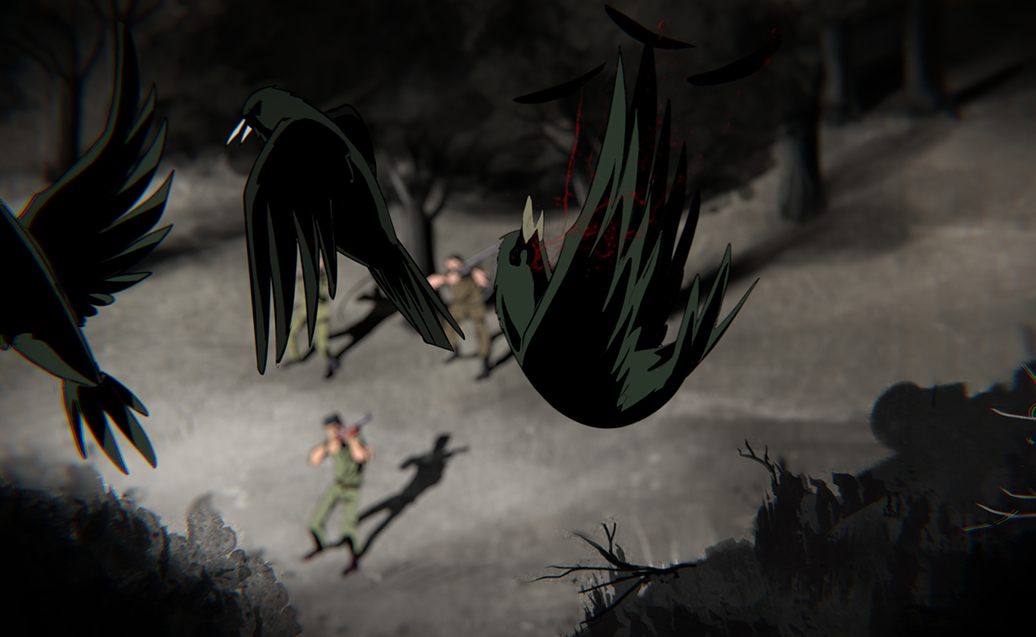 Moug (Waves)
[film still]
2012
Initiated and produced by film scholar and filmmaker Alisa Lebow, Filming Revolution is an interactive database documentary archive about independent and documentary filmmaking in Egypt since the 2011 revolution. Bringing together the collective wisdom and creative strategies of media-makers in Egypt – before, during, after the revolution – the website consists of 30 interviews, edited thematically, with Egyptian filmmakers, artists, activists, and archivists, talking about their work and their ideas about how (and whether) to make films in the time of revolution. Featured people include producer Marianne Khoury, artist Lara Baladi, actor and activist Khalid Abdalla, and film scholar Viola Shafik.
On Thursday 2 February, Lebow will present the aims behind the project as well as some of the films, contributors, and content in Filming Revolution.
Alisa Lebow is a Reader in Film Studies at the University of Sussex, UK. A documentary film scholar and maker, her research is concerned with subjectivity and questions of the political in documentary. Recent publications include The Cinema of Me (Wallflower Press, 2012), A Companion to Contemporary Documentary Film, co-edited with Alexandra Juhasz (Wiley-Blackwell, 2015) and the monograph First Person Jewish (Minnesota Press, 2008). She has made several films, including For the Record: The Iraq War Tribunal (2007), Treyf (1998), Outlaw (1994), and her new interactive project, Filming Revolution.
Related films will be screened on Friday 3 February and Saturday 4 February. Please see below for the full schedule.  
Program Schedule:
Thursday 2 February:
Alisa Lebow in conversation with Nora Razian 
19:00 to 20:30 
Auditorium, Level -2 
Friday 3 February:
Screenings: Moug (Waves) and The Story of 'N'
19:00 to 20:30
Auditorium, Level -2 
The Story of 'N' 
Dir. Laila Samy El Balouty, 2013 
In Arabic with English subtitles 
Color, 16' 
A director's journey to find an acceptable format for telling N's story, within the ever increasing restrictions faced in the process of filming. This short film reflects on the incredible strength Egyptian women develop to cope with a very restrictive male dominated society. As she discovers how unaware women are of their power, she desires to inspire self-appreciation and respect, in hopes that such awareness is a step towards getting rid of this oppression. 
Laila Samy El Balouty is an actress, filmmaker and activist, though she hesitates to use that last term, as it has been abused in ways that have rendered it suspect since the revolution. She was a longterm member of El Warsha theatre troupe. She first studied English literature at Faculty of Arts then studied Cinematography. Laila played as an actress in various films, including The Yacoubian Building (2006), The Aquarium (2008), Those Days (2010), and In The Last Days of the City (2016). She also was the D.O.P and camerawoman for a number of short fiction and documentaries, as well as a 35mm graduation project entitled Solo where she was both its director and D.O.P. 
Moug (Waves)
Dir. Ahmed Nour, 2012 

In Arabic with English subtitles 

Color and B&W, stereo, 71'  
It was in the extraordinary city of Suez that the Egyptian revolution was born. Ahmed Nour, the 30-year-old Suez-born film-maker, invites audiences to share his perception of five special periods of his life, each portrayed as a wave. Using the director's voice-over, animation techniques, and a poetic style of sound and cinematography, Waves attempts to capture the essence of the generation of the Egyptian revolution.
Moug (Waves) was made possible with the support of the Arab Fund for Arts and Culture (AFAC).
Ahmed Nour is an Egyptian screenwriter and filmmaker. He worked as an assistant director in several feature films and soap operas in the Egyptian mainstream cinema market. He wrote and directed several short films that participated in international film festivals, and several documentary films for television. Nour wrote, produced and directed his first feature length film Moug (Waves) (2012), which participated in forty-five international film festivals, won several awards, and has obtained international positive reputation in the cinematic circles. Nour currently works as a freelance film director and screenwriter.
Saturday 4 February:
Screening: Coming Forth by Day

19:00 to 21:00 

Auditorium, Level –2
Coming Forth by Day 
Dir. Hala Lotfy, 2012

In Arabic with English subtitles 

Color, 100'

This unadorned minimalist debut feature depicts 24 hours in the life of a dutiful daughter and an overworked mother. Daughter-mother pair Soad and Hayat vigilantly care for their stroke-ridden father/husband, the household patriarch, who lies dying at the center of their world. Confined to their cramped apartment, time stretches amid the timeless weight of their efforts. When the daughter decides that she must leave for a few hours, her mother worries that something will go wrong, and new events begin to shift the status quo. Coming Forth by Day is a breakthrough film in the new realist wave of independent Egyptian cinema. 
Coming Forth by Day was made possible with the support of the Arab Fund for Arts and Culture (AFAC) and with the participation of SANAD, the Development and Post-Production Fund of the Abu Dhabi Film Festival, United Arab Emirates.
Hala Lotfy is a director, producer and the founder of Hassala Films. She studied filmmaking at the Cairo Film Institute and graduated with honors in 1999. Her documentary Feeling Cold (2005) received a number of awards including the Special Jury Prize at the National Film Festival (Egypt); Best Composition at the Pyong Yang International Film Festival and the Golden Hawk at the Rotterdam Arab Film Festival. She has directed seven documentaries for the TV series "Arabs of Latin America" (2006) on Al Jazeera's documentary channel. In 2011, she received the prestigious Katrin Cartlidge Foundation Award, for new cinematic voices reflecting integrity of spirit in independent film. Her feature-length debut Coming Forth by Day (2012) won more than 12 international awards including the FIPRESCI and Best Director from the Arab World at the Abu Dhabi Film Festival, the Bronze Tanit at Carthage Film Festival and the Best Film award at the Milano African Film Festival. It also featured in DIFF's "Greatest 100 Arab Films" list (2013).