Talk
Hatem Imam: Threshold
A conversation with Daniele Genadry, Ahmad Ghossein, and Hassan Zahreddine
In collaboration with Letitia Gallery
Friday 30 November 2018, 18:00 to 19:30 
In English
Free admission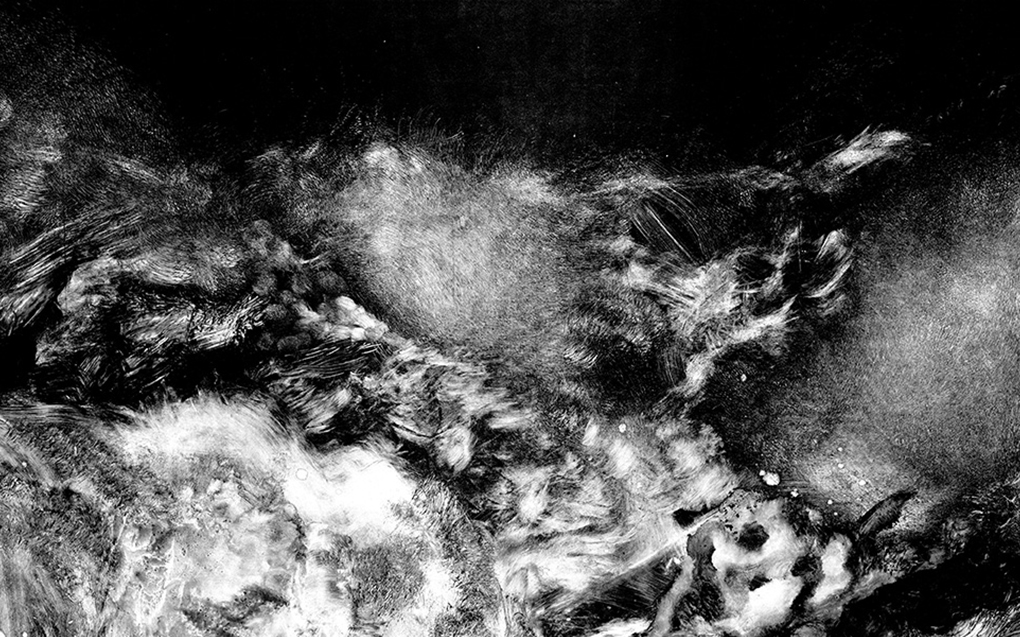 Threshold
2018
Monotype (detail)
Courtesy of the artist and Letitia Gallery
Daniele Genadry, Ahmad Ghossein, and Hassan Zahreddine will be in conversation around Hatem Imam's solo exhibition Threshold at Letitia Gallery. This informal conversation format aims to trigger commentaries on Imam's current artistic inquiry in relation to other artists' practices dealing with a similar subject matter or comparable techniques in their own distinctive practices, visual languages and conceptual interests. 
Threshold is curated by Amanda Abi Khalil and is on view from 15 November 2018 to 19 January 2019. It is recommended that the audience visits the exhibition at Letitia Gallery prior to attending the conversation.
Hatem Imam is a visual artist. He holds a BFA in Graphic design from the American University of Beirut (AUB), and an MA in Fine Arts from the University of Creative Arts in Canterbury, UK. He is the member of the artist collective Atfal Ahdath, the co-founder and creative director of Studio Safar, editor-in-chief of Journal Safar, a co-founder of Samandal comics, and the artistic director of Annihaya record label. He has been teaching at the department of Architecture and Graphic Design at AUB since 2007. Most recently, Imam took part in an artist residency at the printmaking Frans Masareel Centre in Kasterlee, Belgium, (2017). He was also commissioned for a site-specific public artwork for the newly built American University of Beirut Medical Center by Temporary Art Platform. His work has been featured in print in independent publications and exhibited locally and internationally.
Daniele Genadry works with various media- painting and drawing, printmaking and photography- to examine how distance, light and movement affect our visual experience. Through her practice, she considers the potential of a picture to generate its own temporality (light), and how a mediated field of vision can sensitize our perception. Genadry studied studio art at Dartmouth College, NH (BA 2002) and painting at the Slade School of Art in London (MFA 2008). She has participated in international residencies and has recently exhibited at Beirut Art Center; Sharjah Biennial 13; Gypsum Gallery, the Sursock Museum, The Bronx Museum and more. Since 2016, Genadry lives and works in Beirut, and teaches at the American University of Beirut. 
Hassan Zahreddine is a printmaker and illustrator with a B.A in fine arts (painting) from the Lebanese University and from the Université du Quebec a Montreal and an M.A in printmaking from Concordia University. He had solo exhibitions in Lebanon and Canada. He has participated in several printmaking venues in several countries (Canada, Japan, Spain, Bangladesh, Syria and Poland). Zahreddine participated in the exhibition of Arab Illustrators of Children's books at the Institut du Monde Arabe, France in 2003 and has been shortlisted in Bologna illustrators' exhibition in 2009 and 2011.
Ahmad Ghossein is an artist and filmmaker. He holds an MFA in Visual Art from the National Academy of Art-(KHIO) in Oslo and a BFA in Theater from the Lebanese University, Beirut. His practice utilizes a number of media, including video art, installation, art in public spaces and photographs and film. The starting point of his work is the collectioning and analysis of facts, documents, and found footage, which then feed into a body of work that draws on the potential of the moving image. He is interested in the connection between individual human experiences and shared historical and political realities. His work is driven by personal and emotional experience, but is essentially concerned with the larger political dynamics of his time.
Amanda Abi Khalil is an independent curator based in Beirut.