Film Program
The Invisible Hands
In collaboration with Beirut Art Residency (BAR)
Wednesday 13 February, 19:00 to 21:00
In English and Arabic with English subtitles
Free admission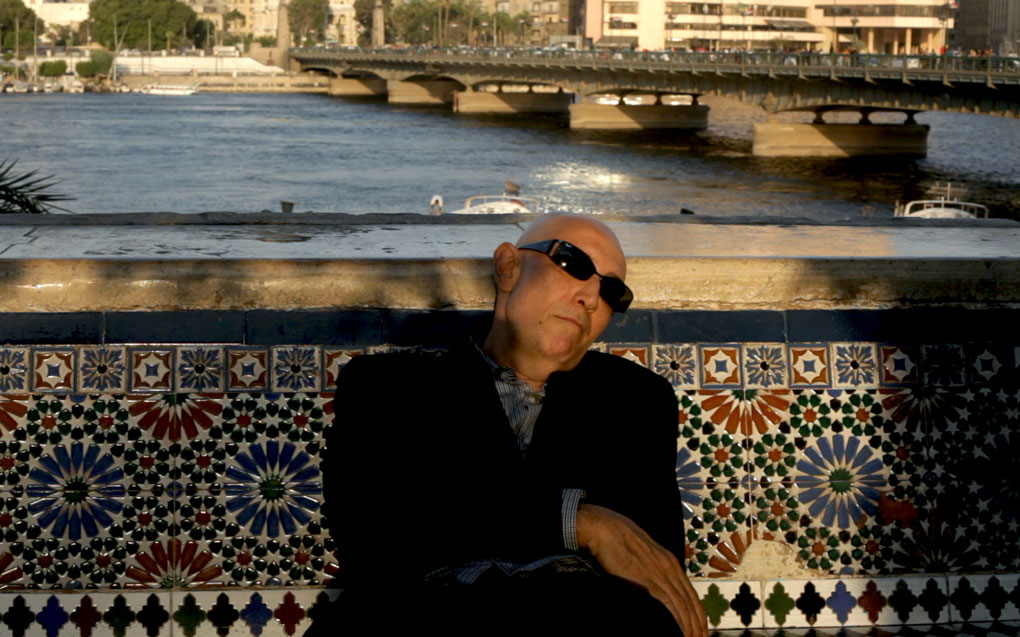 Dir. Marina Gioti and Georges Salameh
The Invisible Hands (film still)
2017
Courtesy of the artists
Join us for a screening of The Invisible Hands, directed by Marina Gioti and Georges Salameh. To mark the occasion, Gioti and Salameh will be in conversation after the screening.
The Invisible Hands (2017)
Directed by Marina Gioti, co-directed by Georges Salameh
Greece and Egypt
Documentary, 97 minutes
English and Arabic with English subtitles
Maverick underground American-Lebanese musician and ethnomusicologist Alan Bishop (Sun City Girls, Sublime Frequencies), lands as a stranger in Cairo soon after the 2011 uprisings, and teams up with three young Egyptian musicians for the translation of his old songs into Arabic. Under Bishop's mentorship, this unlikely collaboration transforms into a band, The Invisible Hands. Structured around fly-on-the-wall scenes, archival ghost apparitions, absurd cameos and poetic diary narrations by Bishop, and unfolding between the two critical elections that marked the post "Arab Spring" period in Egypt, the film juxtaposes the tragicomedy of politics and art-making in the so-called periphery.
The film was supported by documenta 14 and the Greek Film Centre. The film's world premiere took place at documenta 14 in Athens in 2017. Its festival premiere took place at the 68th Berlinale Forum Expanded in 2018.
This film program is organized in collaboration with Beirut Art Residency. Marina Gioti is currently an Onassis AiR artist-in-residence at BAR.
Marina Gioti is a filmmaker and visual artist born and based in Athens, Greece. She studied Chemical Engineering, Environmental Management, Filmmaking, and Media and Communication. Her films and installations been screened and exhibited worldwide at museums and international festivals including Berlinale, Toronto and Transmediale. She has participated at the 5th Thessaloniki Biennial, the WRO15-Wroclaw Media Art Biennial, and the 1st Anren Biennial. In 2017, she was a participating artist at documenta 14. The Invisible Hands is her first feature length film. She is currently an Onassis AiR artist-in-residence at Beirut Art Residency.
Georges Salameh is a Lebanese-Greek filmmaker and photographer currently based in Athens, Greece. He studied Cinema and History of Art at Paris 8 St. Denis (1991-1994). Salameh has worked in Greek and foreign cinematographic and audiovisual productions (1995-2004). Since 1999, he has directed shorts, documentaries, experimental/essay movies, and video installations. Since 2011, he is a co-founding member of the Depression Era Project. He is a collaborating curator of the Urbanautica Institute, a platform for contemporary fine art photography. His work has been exhibited in museums, galleries, and film festivals in Athens, London, Paris, and Beijing.