Talk
Lebanon in the Constellation of Modernist Tapestry
Thursday 5 July, 19:00 to 20:30
In English
Free admission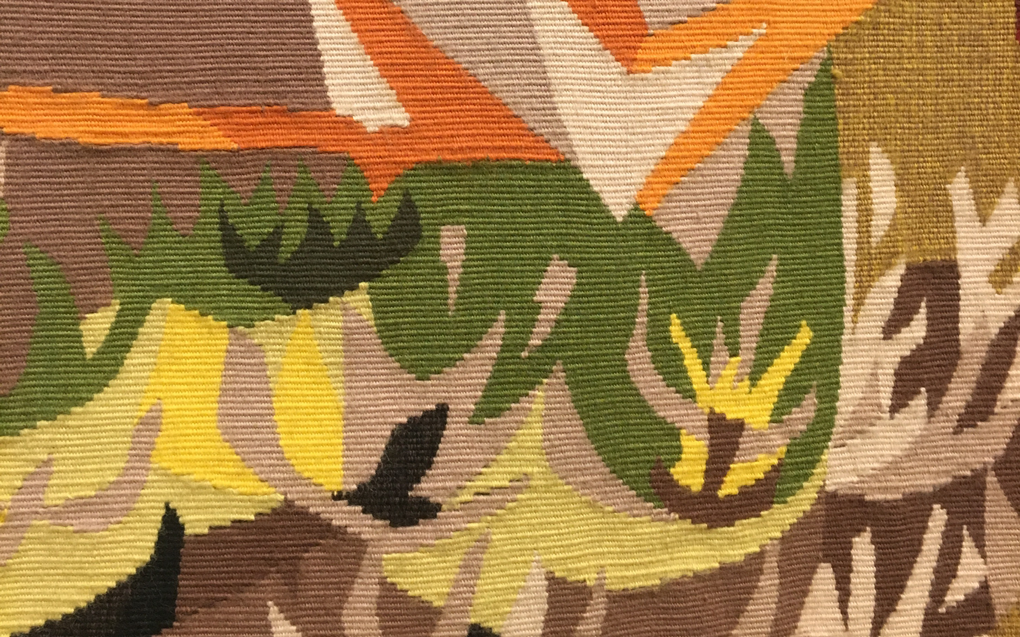 Cedar
[Cèdre]
1973
Tapestry
Sursock Museum collection
Join us for a talk that examines tapestry production in the region and Lebanon.
In the mid-20th century, fiber artists circulated across the Arab world and Africa. They promoted their work through exhibitions; established studios and art schools; and exchanged ideas, techniques, and materials. Sites of tapestry production and display in Lebanon played a critical role in this constellation. Weavers in the "Aubusson Libanais" in Aïnab and Georges Audi in Zouk Mikaël, among others, translated paintings into tapestries for exhibitions such as the Salon d'Automne in Beirut and the Lausanne International Tapestry Biennial. This talk considers how weavers and designers in Lebanon negotiated the terms of collaboration and creation across lines of gender, class, and nationality, as well as explores the relationship of the fiber medium to the concept of "craft."
Jessica Gerschultz is an Assistant Professor in the Department of African and African-American Studies at the University of Kansas. She is a 2018 Hans-Robert Roemer Fellow at the Orient-Institut Beirut. Her research and teaching center on African and Arab articulations of modernism with a particular emphasis on tapestry. She has published articles in ARTMargins (2016), The International Journal of Islamic Architecture (2015), and Critical Interventions: Journal of African Art History and Visual Culture (2014). Gerschultz was an American Council of Learned Societies Fellow in 2016 for the writing of her first book on Tunisian modernism (Penn State Press, forthcoming). She has held fellowships and awards from the American Philosophical Society, the American Association of University Women, and the Fulbright Council. She serves on the board of AMCA, the Association for Modern and Contemporary Art of the Arab World, Iran, and Turkey.
Yasmine Chemali is the Head of Collections at the Sursock Museum in Beirut. She graduated from the École du Louvre with a focus on preventive conservation and Islamic arts. From 2011 to 2014, she was the collection manager of The Fouad Debbas Collection, a photographic collection from the mid-19th and first-half of the 20th century that she now curates at the Sursock Museum through a cycle of exhibitions. At the Sursock Museum, Yasmine is responsible for studying the collection, and ensuring that it is kept in optimal climate-controlled conditions for its preservation.