Film Program
Locarno Film Festival in Beirut: Bicycle Thieves
In partnership with the Embassy of Switzerland in Lebanon and Metropolis Cinema | With the support of UBS
Saturday 1 June, 20:30 to 22:00
In Italian with English Subtitles
Free admission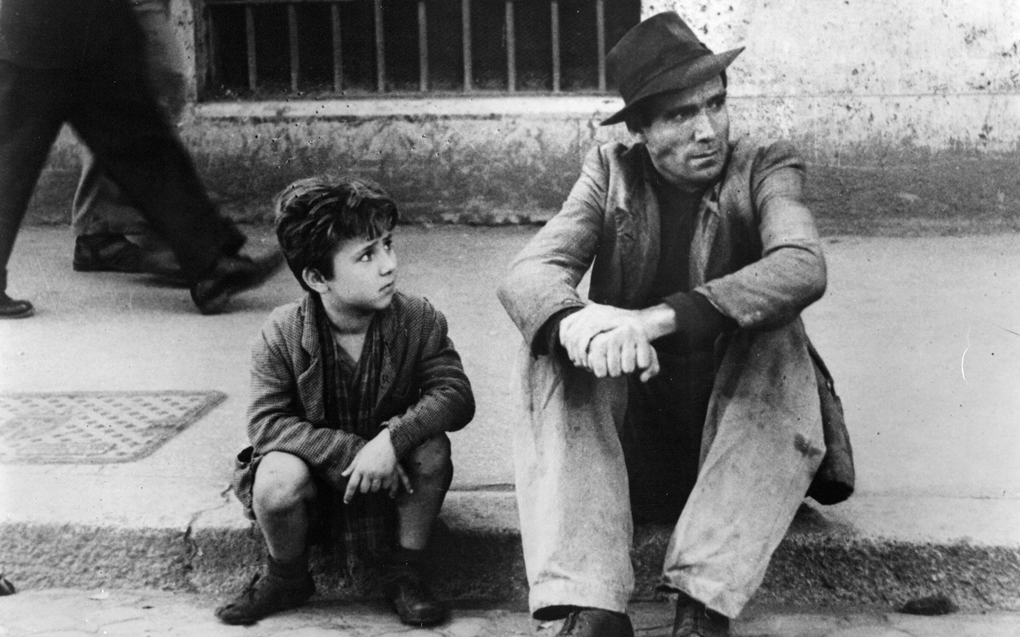 Courtesy of the artist
The Sursock Museum, the Embassy of Switzerland in Lebanon, and Metropolis Cinema have the pleasure to present the second edition of the Locarno Film Festival in Beirut, taking place from Thursday 30 May to Saturday 1 June, with three outdoor screenings held at the Museum.
For the full program, click here. For a synopsis of each film, click here.
The Locarno Film Festival in Beirut is supported by UBS and the Cultural Fund of the Embassy of Switzerland in Lebanon.
Bicycle Thieves
Dir. Vittorio De Sica, 1948
88', Italy
In Italian with English Subtitles
Cast: Lamberto Maggiorani, Enzo Staiola, Lianella Carell
Director of photography: Carlo Montuori
Music: Alessandro Cicognini  
Editing: Eraldo Da Roma
Special Jury Prize 1949
During the hard years of poverty in post-World War II in Rome, Antonio, a poor working-class man with a wife and a little son, is finally offered a modest job as a bill-poster with his own bicycle; a bicycle like the one Antonio was already forced to pawn. As a result, his wife, Maria, pawns the family's bed linen to redeem their bicycle, unfortunately, however, on Antonio's first day of work, the prized possession is stolen. Desperate, the ill-fated father and his boy, Bruno, will scour Rome's bustling streets on a gloomy Sunday to find the vital bicycle, but undoubtedly, this is an impossible task. Will Antonio ever get his job back?
Vittorio De Sica, (born July 7, 1902, Sora, Italy – died November 13, 1974, Paris, France), was an Italian film director and actor who was a major figure in the Italian Neorealist movement. During a prolific career that spanned 55 years, De Sica directed 35 films and acted in more than 150. His career as an actor began in 1918 with a small part in a silent film. Although he maintained a successful acting career until the end of his life, De Sica's directorial effort – usually in collaboration with screenwriter Cesare Zavattini – are regarded as his more influential contribution to cinema history. The roots of Neorealism – an emphasis upon simple, honest story lines, a documentary style, the frequent use of children as protagonists, on-location shooting, social themes, and faith in the brotherhood of man – are found in De Sica's early works, particularly Teresa Venerdì (1941; Doctor Beware) and I bambini ci guardano (1942; The Children Are Watching Us). It was during the postwar peak of Neorealism, however, that De Sica became one of the world's most acclaimed directors with four masterpieces of the genre: Sciuscià (1946; Shoeshine), an account of the tragic lives of two children during the American occupation of Italy; Ladri di biciclette (1948; The Bicycle Thief), an Oscar winner for best foreign film; Miracolo a Milano (1951; Miracle in Milan), a comic parable about the clash of rich and poor in Milan; and Umberto D. (1952), a tragedy about a lonely pensioner, his dog, and a young maid who takes pity upon them both. The performances of the largely amateur casts in these films received widespread acclaim.