Special Program
The Making-of: Baalbek, Archives of an Eternity
A series of seminars
Saturday 21 September, 10:00 to 15:30
In English
Free admission
Spaces limited. First-come, first-served.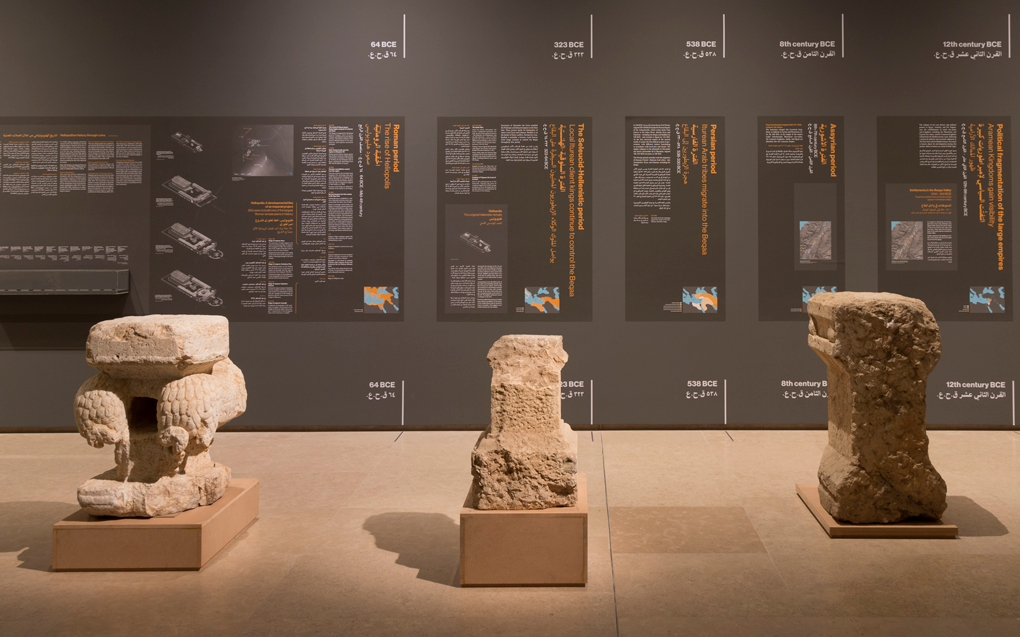 Installation view of "Baalbek, Archives of an Eternity." Shown here are three sculptures from the Directorate General of Antiquities, Ministry of Culture (DGA).
Photo: Christopher Baaklini
To mark the closing of Baalbek, Archives of an Eternity curated by Vali Mahlouji, join us for a series of focused seminars that shed light onto the making-of and the behind the scenes process of conceiving this exhibition.
These seminars are catered to students and young audiences interested in scenography, filmmaking, and exhibition making practices.
Schedule
10:00 to 11:30  |  A Scenography of 10,000 years with Jacques Aboukhaled
Gain insights from Jacques Aboukhaled on the process of scenography in designing an exhibition with over 300 objects spanning 10,000 years – from the Neolithic to the contemporary – through the combination of aesthetic, conceptual, and spatial decisions. From conception to composition, he will touch on considerations and constraints of spatiality, flow, patronage, historical information and content.
11:30 to 13:00  |   In the Cutting Room with Malek Hosni and Vali Mahlouji
Go behind the scenes with filmmaker Malek Hosni and curator Vali Mahlouji, as they illustrate the process of capturing the world of individual citizens in one take. They will shed light on the process of editing to produce a composition of personalities as a cross-section of society, the logical constraints, the selection of individuals, locations, and working in intimate settings, adaptations, and the technical and creative process. 
13:00 to 14:00  |   Break
14:00 to 15:30  |   Through the Sources with Muriel N. Kahwagi and Vali Mahlouji
How can narratives (re)construct a city and its history? In this seminar, Muriel N. Kahwagi and Vali Mahlouji explore the role of 10th-18th-century travelogues and manuscripts in excavating blind spots in the history of the city of Baalbek; shedding light on the precariousness of these sources and the challenges of exhibiting them.
Speaker Bios
Jacques Aboukhaled completed his architectural studies from the École Speciale d'Architecture in Paris in 1980. He founded his architectural practice, JA Designs architects & designers, in London in 1987, before moving it to Beirut in 1994. Since then, he has worked on several local and international projects, including the renovation and expansion of the Sursock Museum in Beirut, completed in 2015. The expansion project was conceived together with Jean-Michel Wilmotte, with whom he designed the scenography of Regards sur Beyrouth: 160 ans d'images. 1800-1960 (Sursock Museum, 2015). Other exhibition design projects include the 33rd Salon d'Automne (Sursock Museum, 2018) and La Fabrique des illusions (Sursock Museum, Mucem, 2019).
Malek Hosni is a filmmaker based in Beirut. His work spans cinema, documentaries, video installations, and web content. He has produced work for a diverse range of projects and platforms, including the UN, Cold Cuts, and Barakunan. He is currently working on his first feature-documentary, The Dancing Plague.
Muriel N. Kahwagi is a writer based in Beirut. Her current research, funded by the Arab Fund for Arts and Culture (AFAC), explores the institutionalization of zajal poetry in Lebanon, and the aesthetics and politics of recording live performance.
Vali Mahlouji is a London-based curator, founder of Archaeology of the Final Decade, independent advisor to the British Museum, and director of Kaveh Golestan Estate. Mahlouji's recent work includes exhibitions at Foam Fotografiemuseum Amsterdam; Musée d'Art Moderne de la Ville de Paris; MAXXI Museo nazionale delle arti del XXI secolo; Whitechapel Gallery; Photo London; Prince Claus Fund; Singapore International Festival of Arts; Art Dubai Modern; Bergen Triennial; Open Eye Gallery; Dhaka Art Summit 2018; SAVVY Contemporary; and Garage Museum of Contemporary Art, Moscow. Mahlouji has been published by various institutions, including Neue Nationalgalerie, Berlin; Guggenheim Museum; National Museum of Contemporary Art, Athens; Photo London, Encyclopædia Iranica, Columbia University; Asia Society Museum New York; Sharjah Biennial; and City University New York. Recent talks and lectures by Mahlouji have taken place at Stanford University; Yale University; Goldsmiths University; SAVVY Contemporary, Berlin; Para Site, Hong Kong; Garage Museum of Contemporary Art, Russia; Kultuforum, Berlin; Lahore Literary Festival; Irish Museum of Modern Art; Bergen Assembly; Asia Society, New York; Whitechapel Gallery; and the British Film Institute; among others.