Talk
Museum City vs Living City
Thursday 4 July, 19:00 to 20:30
In English
Free admission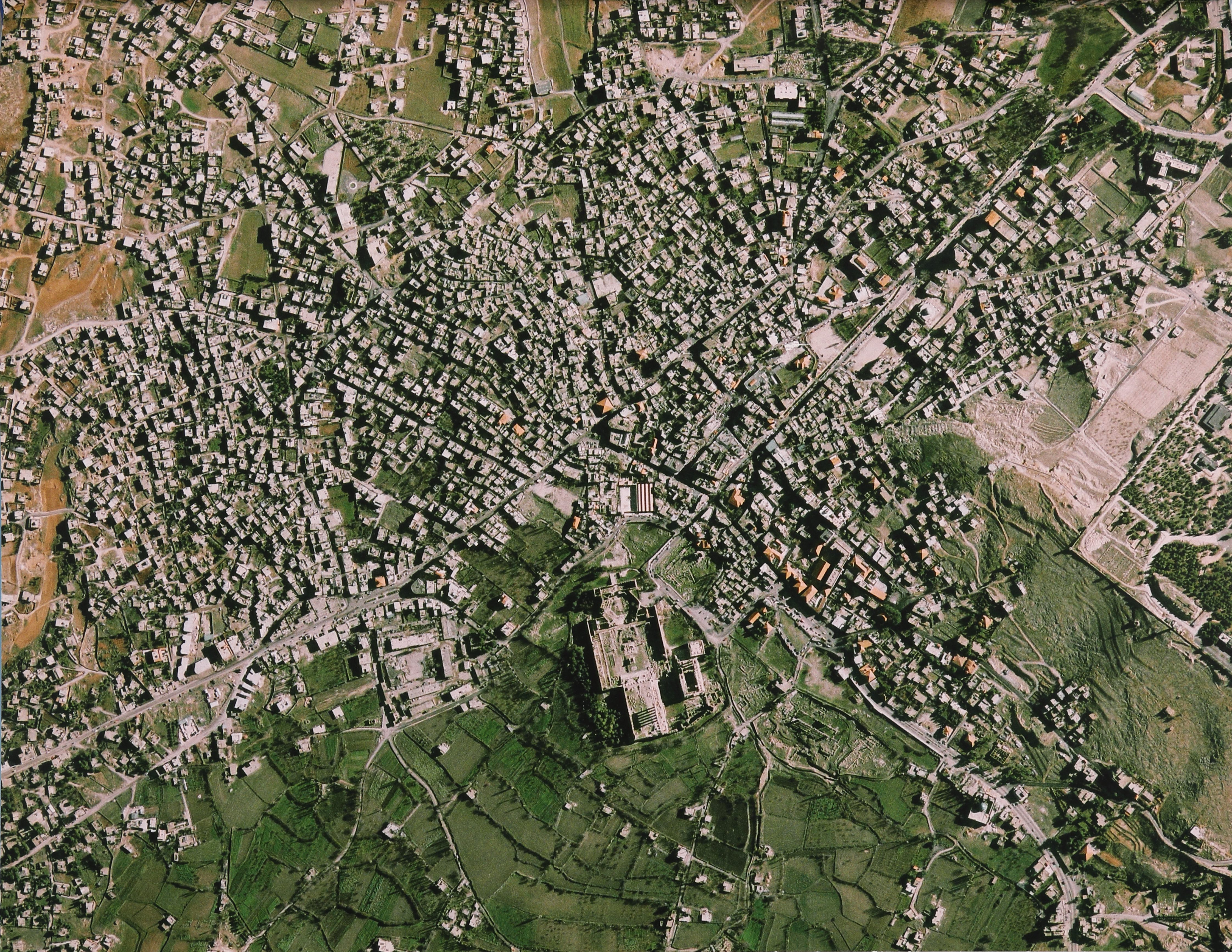 Join us for a conversation with architect Youssef Haidar and curator Vali Mahlouji. The core of the discussion is about the interaction and tension between the original site of the temples and the city of Baalbek.
The contemporary city has often been marginalized by modern urban planners and state legislators over the dominance of its archaeological ruins. Emblematization is invested in the ruins of Baalbek as a site. This vision considers the site as paramount to national interests; for those the value of the national asset far surpasses its local relevance and its meaning to a relatively small locality. That is, the Baalbek asset belongs to all Lebanese, detached from its city. In practice, the attitude has poised site and city at opposite ends of an irresolute conflict of interests.
This talk is organized in parallel to the exhibition Baalbek, Archives of an Eternity, on view from 27 June to 22 September 2019. This talk is preceded by a curator's tour with Vali Mahlouji of the exhibition, 18:00 to 19:00.
Youssef Haidar (b. 1965, Baalbek, Lebanon) graduated from the École nationale supérieure d'architecture de Paris la Villette in 1988, and then worked in several French architecture firms before returning to Beirut in 1994, where he founded his firm. Since 2017, he is an associate at Firm HFG Architects. His architectural projects include the Soap Museum in Saida, the Riad El Solh Museum in Saida, the Omari Grand Mosque in Beirut, the Archaeological Museum of the American University of Beirut, the Museum of Memory, and Beit Beirut. Alongside his architectural practice, Haidar works with various medium including painting, ceramics, and sculpture. He participated in several group exhibitions in Paris between 1986 and 1994, and in Beirut at the Guiragossian Museum in 2006. He had solo exhibitions at Galerie Fadi Moghabghab in 2005 and Galerie Agial in 2017. He is a Knight of the Order of Arts and Letters.
Vali Mahlouji is a London-based curator, founder of Archaeology of the Final Decade, independent advisor to the British Museum, and director of Kaveh Golestan Estate. Mahlouji's recent work includes exhibitions at Foam Fotografiemuseum Amsterdam; Musée d'Art Moderne de la Ville de Paris; MAXXI Museo nazionale delle arti del XXI secolo; Whitechapel Gallery; Photo London; Prince Claus Fund; Singapore International Festival of Arts; Art Dubai Modern; Bergen Triennial; Open Eye Gallery; Dhaka Art Summit 2018; SAVVY Contemporary; and Garage Museum of Contemporary Art, Moscow. Mahlouji has been published by various institutions, including Neue Nationalgalerie, Berlin; Guggenheim Museum; National Museum of Contemporary Art, Athens; Photo London, Encyclopædia Iranica, Columbia University; Asia Society Museum New York; Sharjah Biennial; and City University New York. Recent talks and lectures by Mahlouji have taken place at Stanford University; Yale University; Goldsmiths University; SAVVY Contemporary, Berlin; Para Site, Hong Kong; Garage Museum of Contemporary Art, Russia; Kultuforum, Berlin; Lahore Literary Festival; Irish Museum of Modern Art; Bergen Assembly; Asia Society, New York; Whitechapel Gallery; and the British Film Institute; among others.