Talk
Oscar Niemeyer's Fair in Tripoli: A Modern Legacy in Danger
Organized by the Beirut Museum of Art (BeMA) and Studiocur/art
Thursday 27 September, 19:00 to 21:00
In English
Free admission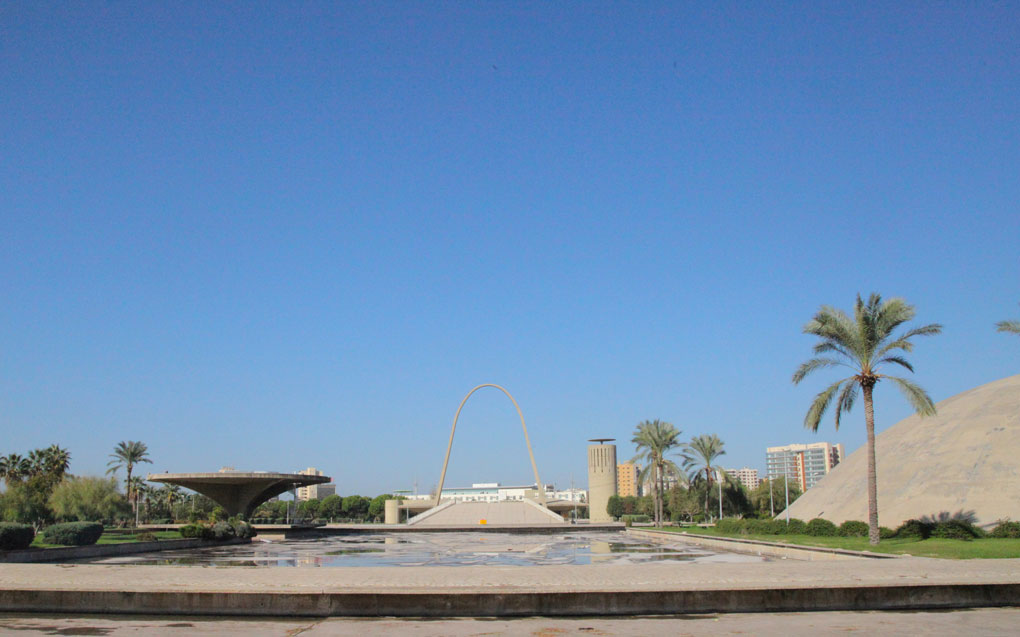 Photo: Fritzia Iriziar
In 1962, the Brazilian architect Oscar Niemeyer (1907-2012) – known for the government buildings he designed in Brasilia, among many others all over the world – was invited to Lebanon to conceive one of his first large-scale projects outside the Americas in Tripoli.
The then titled "Lebanon International and Permanent Fair" was commissioned by the Lebanese Government and originally designed to include permanent exhibitions, three museums, and an experimental theatre, among other buildings. It was partially completed in 1974, when the Civil War put an end to construction, and the utility of the Fair became obsolete.
This panel will offer two presentations from specialists in modernist architecture:
Farès el-Dahdah
The International and Permanent Lebanon Fair Project and its Antecedents in the Work of Oscar Niemeyer
Bernard Khoury
When the Future Looked Bright, We Didn't Wear Shades
This talk is organized in parallel to the exhibition Cycles of Collapsing Progress opening at the Rashid Karami International Trade Fair and the citadel of Tripoli on 22 September 2018, organized by the Beirut Museum of Art (BeMA) and Studiocur/art.
The presentations will be followed by a conversation with curator of the exhibition Karina El Helou and a moderator. There will also be a Q&A session.
Farès el-Dahdah is an educator, scholar, humanist, and designer. He received his undergraduate degrees in fine arts and in architecture from the Rhode Island School of Design and went on to pursue his graduate studies in urbanism and architectural theory at Harvard University's Graduate School of Design. Following a two decade long professorial track at Rice University's School of Architecture, he was appointed director of the Humanities Research Center (HRC) in 2012 and Professor of the Humanities in 2014. El-Dahdah is the recipient of visiting fellowships from the David Rockefeller Center for Latin American Studies (DRCLAS), the Canadian Center for Architecture (CCA), and is currently a Faculty Scholar at the Baker Institute for Public Policy (BIPP). He has written extensively on Brazil's modern architecture, and has been involved in a number of collaborative projects with Casa de Lucio Costa (CLC) and Fundação Oscar Niemeyer (FON), two Brazilian cultural foundations on the boards of which he serves. With support from the Andrew W. Mellon Foundation, el-Dahdah co-led the 2015-16 John E. Sawyer Seminar on the Comparative Study of Cultures Cultures titled, Platforms of Knowledge in a Wide Web of Worlds: Production, Participation, and Politics and the 2016-17 Rice Seminar titled, Chronotopic Imaginaries: The City in Signs, Signals, and Scripts. This has led to his current research interests, which explore and critique how digital platforms uphold the mission of disseminating knowledge as well as to developing online geospatial platforms that describe cities over time, as they existed and as they have come to be imagined.
Bernard Khoury studied architecture at the Rhode Island school of Design (BFA 1990 / B.Arch 1991). He received a Masters in Architectural Studies from Harvard University (M.Arch 1993). In 2001, he was awarded by the municipality of Rome the honourable mention of the Borromini Prize given to architects under forty years of age. In 2004, he was awarded the Architecture + Award. He is the co-founder of the Arab Center for Architecture. He was a visiting professor at the Ecole Polytechnique Fédérale de Lausanne, L'Ecole Spéciale d'Architecture in Paris and the American University of Beirut. He has lectured and exhibited his work in over one-hundred- twenty prestigious academic institutions in Europe and the U.S. including a solo show of his work given by the International Forum for Contemporary Architecture at the Aedes gallery in Berlin (2003) and numerous group shows including YOUprison at the Fondazione Sandretto Re Rebaudengo in Turin (2008) and Spazio at the opening show of the MAXXI museum in Rome (2010). He was the co-curator and architect of the Kingdom of Bahrain's national pavilion at the Venice Biennale's 14th International Architecture Exhibition in 2014. His work has been extensively published by the professional press. Khoury started an independent practice in 1993. Over the past twenty years, his office has developed an international reputation and a significant diverse portfolio of projects both locally and in over fifteen countries abroad.