Special Program
Past Disquiet: Artists, International Solidarity and Museums-in-Exile
Saturday 15 September, 16:00 to 18:00 
In English
Free admission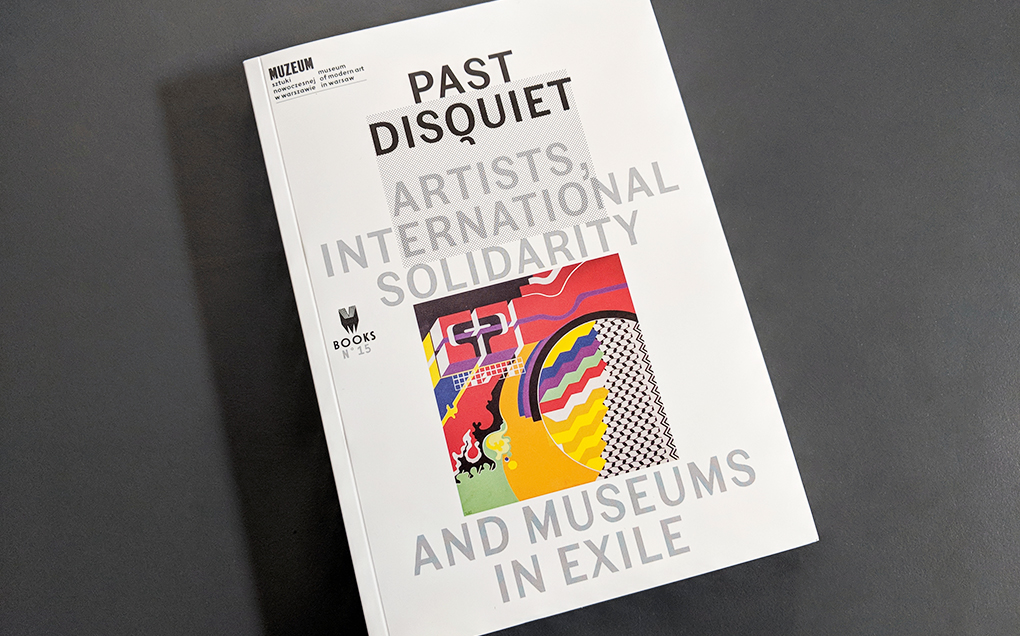 Join us for the launch of the book, Past Disquiet: Artists, International Solidarity and Museums-in-Exile. To mark the occasion, Kristine Khouri and Rasha Salti will present the book at 16:00. The book launch and presentation will be preceded by a Curators' Tour of the exhibition Past Disquiet, at 15:00.
The 1970s saw artists, curators, and militants gathering international collections of art, donated by artists, that traveled to established museums, galleries, and community spaces. These museums-in-exile were intended to incarnate the solidarity of artists with political causes and mobilize a wider public. Past Disquiet explores the histories of three such museums, plumbing the networks of artists who worked together to make them a reality. Starting with the forgotten International Art Exhibition for Palestine, the research uncovered a global map of artists protesting the Pinochet dictatorship in Chile and the apartheid regime in South Africa, and supporting liberation struggles including that of the Palestinian people and the Sandinista revolution.
With contributions from: Bartomeu Marí, Anselm Franke, Joanna Mytkowska, Mohanad Yaqubi, Reem Shilleh, Sliman Mansour, Alia Nakhli, Toni Maraini, Farid Belkahia, Anneka Lenssen, Nakajima Izumi, Vladimir Tamari, Dominika Blachnicka-Ciacek, Katarzyna Matul, Jérôme Bazin, Jelena Vesić, Sara Catenacci, Catherine Dossin, Caroll Yasky, Claudia Zaldívar, Elodie Lebeau, Ernest Pigon-Ernest, Maeda Rei, Gordon Metz, André Odendaal, Claude Lazar, and the editors, Kristine Khouri and Rasha Salti.
The book is published by the Museum of Modern Art in Warsaw, distributed by the University of Chicago Press and produced with the support of the Arab Fund for Arts and Culture (AFAC), Dar El-Nimer for Arts & Culture, Zed Grant, and the Haus der Kulturen der Welt (HKW).
This book is available for purchase at the Sursock Museum Store. 
Kristine Khouri is an independent researcher and writer whose research interests focus on the history of arts circulation and infrastructure in the Arab world, and archival practices and dissemination. Khouri is a member of the board of the Arab Image Foundation, Beirut.
Rasha Salti is a writer, researcher, and curator of art and film living and working between Beirut and Berlin.
Together, Khouri and Salti are cofounders of the History of Arab Modernities in the Visual Arts Study Group, a research platform focused around the social history of art in the Arab world. They co-authored the essay "Beirut's Musée Imaginaire: The promise of modernity in the age of mechanical reproduction." Their current project, Past Disquiet, is a long-term research project which began in 2008 and was transformed into a documentary and archival exhibition. Khouri and Salti are the coeditors of the forthcoming publication, Past Disquiet: Artists, International Solidarity, and Museums in Exile published by the Museum of Modern Art in Warsaw (2018).