Pastels, or the sparkle of life: Selected works by Georges Daoud Corm
Collection Galleries, Level 1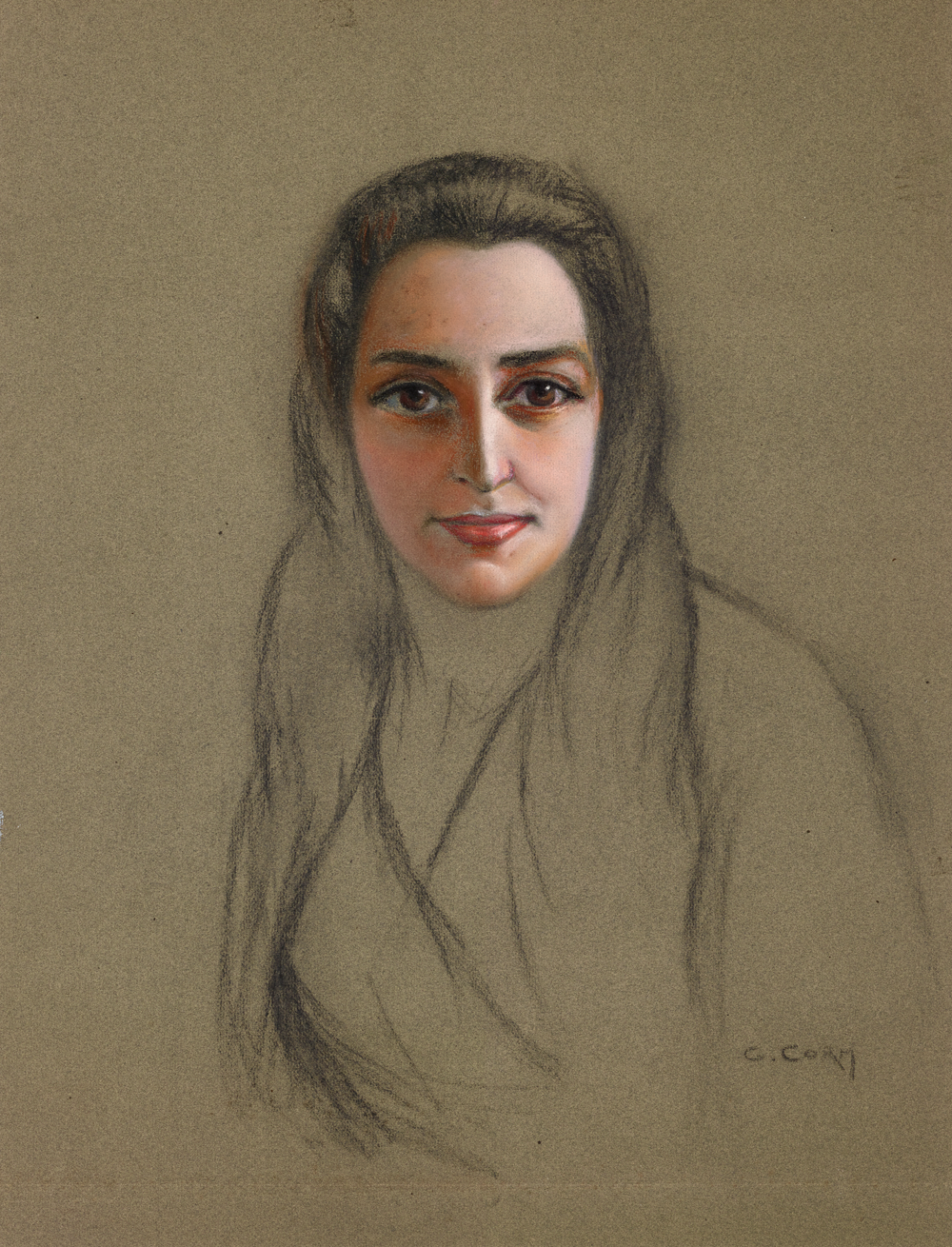 Portrait of a woman
Undated
Charcoal and pastel highlights on paper
63 x 48 cm
Georges Corm collection / Sursock Museum
Georges Daoud Corm (1896-1971) was the son of Lebanese painter Daoud Corm (1852-1930), a distinguished Lebanese painter of portraits and commissioned religious works, and the brother of Charles Corm, the poet of The Sacred Mountain (1934). He first trained in his father's studio before pursuing studies at the École nationale des Beaux-Arts de Paris from 1919 to 1921. Whilst in Paris, he attended the Académie Julian and the Académie Colarossi, also known as the Académie de la Grande Chaumière, observing the successive Neo-Impressionist, Dadaist, and Cubist revolutions with interest. However, the art of Georges Daoud Corm would remain marked by his classical training. The painter staunchly defended the Fine Arts in his Essai sur l'Art et la Civilisation de ce temps (1966).
At an early age, and following in the footsteps of his father, Georges Daoud Corm established himself as a master portraitist. Whether in Beirut (1921-1935 and 1956-1971), Cairo, or Alexandria (1921-1955), the artist received many commissions. Often, the countenance of the painter's models can be read in their faces alone. The portraitist excelled in the rendering of character, often through a sole accentuated feature, perhaps a stare, a smile, or a pout. It could be said that Georges Daoud Corm was to the cosmopolitan society of Cairo and Alexandria what Maurice-Quentin de La Tour, the celebrated portraitist and pastellist, was to the Versailles court.
Through the selected series of studies and pastel portraits*, Georges Daoud Corm highlights the beauty and radiance of his subjects. The choice of medium, pastel, is deliberate. The stick of color, composed of pigment and a filler (chalk or clay) held together by a binder (gum arabic) has a brighter and livelier effect than oil paint. Through textural effects, rendering of complexions, and intense, frank or mocking gazes, pastels afford the artist an incomparable virtuosity. The powdery and highly fragile medium also made an impression on other Lebanese artists such as Farid Aouad and Aref Rayess, who created extraordinary series of seascapes and flowers.
*All the works presented in this exhibition are part of the generous deposit of Georges Corm's collection with the Sursock Museum in 2018.