Special Program
The Place That Remains: Horizons for Hope
In partnership with the Lebanese Pavilion of the Venice Architecture Biennale
Friday 7 December, 19:00 to 21:00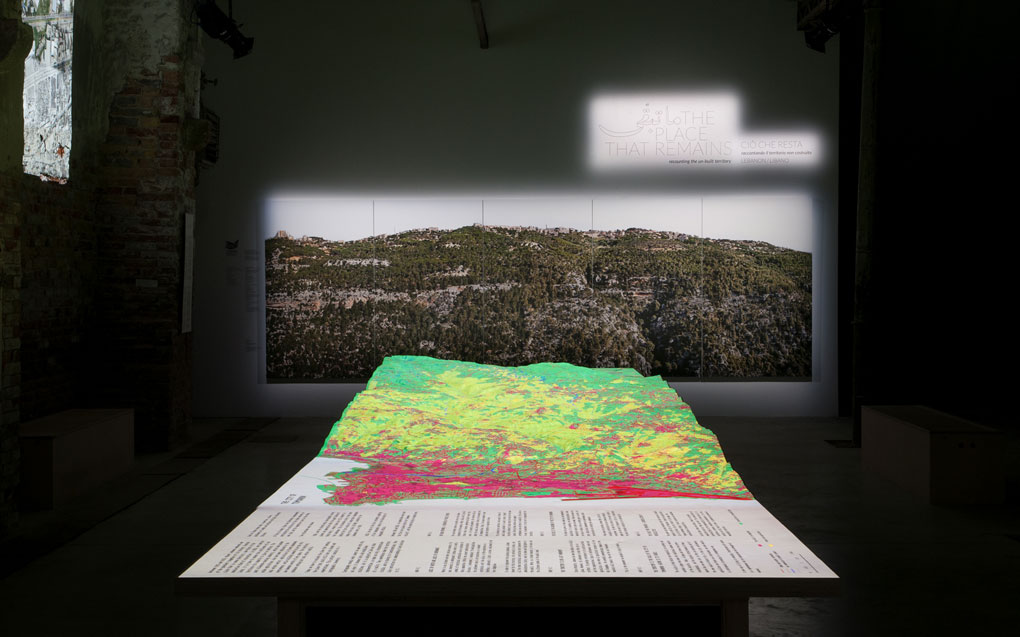 Installation view of the Lebanese Pavilion in the Venice Architecture Biennale
2018
© Claudio Franzini
This year marked Lebanon's first ever participation in the Venice Architecture Biennale, which ran from 26 May to 25 November 2018. It featured projects by Hala Younes, Gregory Buchakjian, Catherine Cattaruzza, Gilbert Hage, Houda Kassatly, Talal Khoury, and Ieva Saudargaité Douaihi. This talk puts forward the exhibition, The Place that Remains: Recounting the Unbuilt Territory, as an opening for future conversations, methodologies, and actions beyond the time frame and venue of the Biennale.
Pavilion curator Hala Younes will give a talk, followed by a discussion and a book signing of the catalogue of the exhibition by the authors and contributors.
The Lebanese Pavilion is a project of an inventory, fostering the visibility of the land through various forms of representation, namely 3D relief mapping, cartography, aerial imagery, photography, as well as video, with the focus placed on the watershed of the Beirut River. Exhibited works aim to identify and piece together the remaining fragments of the country. The inventory is a project, refurbishing what is left – those forgotten treasures buried in the folds of the territory – and weaving the canvas of the future.
Hala Younes is an architect, geographer, and educator. Her professional practice focuses on history and cultural landscape as design initiators. In 2018, she was the curator and initiator of the first Lebanese Pavilion at the 16th International Architecture Exhibition, la Biennale di Venezia.
George Arbid, is an architect and founding member and director of the Arab Center for Architecture in Beirut. He taught design studios and courses in the history and theory of architecture at the Académie libanaise des Beaux-Arts (ALBA) and the American University of Beirut. Publications include the award-winning book Architecture from the Arab World, 1914-2014: A selection, published at the occasion of the Venice Architecture Biennale in 2014.