Talk
Reading Room Activation
Friday 14 October, 18:00 to 20:00
In English
Free admission
Places limited. First-come, first-served.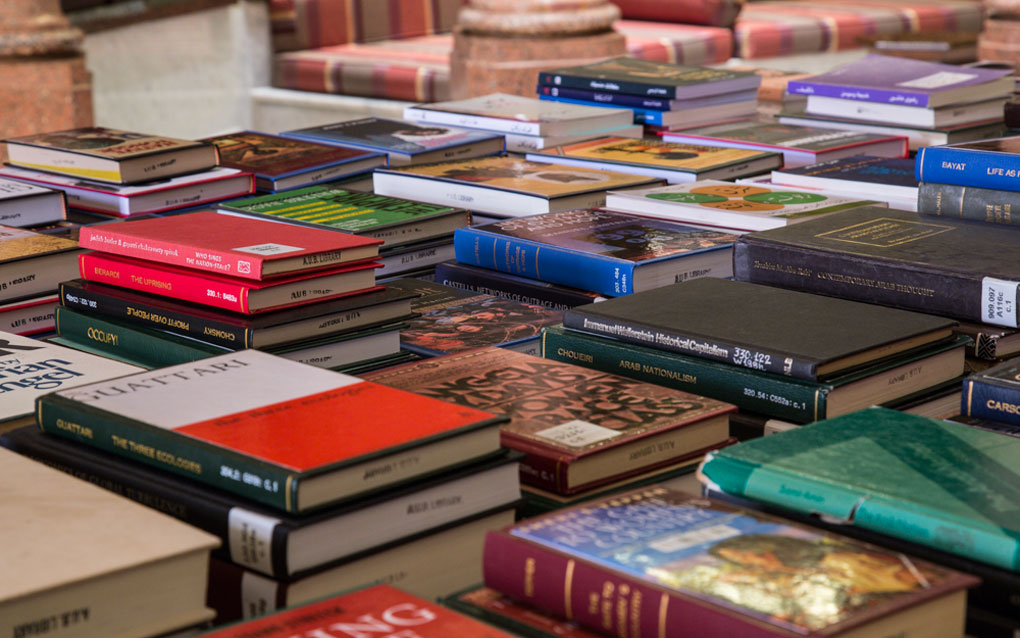 Marwa Arsanios in collaboration with Samer Frangie
The Reading Room (detail)
2016
Books, table, printed map
Photograph by Nabû Productions
Readings of science fiction and eco-feminist novels in The Reading Room, a project by Marwa Arsanios in collaboration with Samer Frangie, as part of the exhibition Let's Talk About the Weather.
 
Referencing histories of critical pedagogy and self-emancipation through learning, The Reading Room brings together over 300 publications selected according to a wide range of themes and questions related to the exhibition, including third-worldism, environmental justice, and eco-feminism.
 
Led by Meral Çiçek and Dilar Dirik, readings will discuss different excerpts from the Stateless Democracy reader, which accompanies the fifth edition of New World Academy.
The reading group will be moderated by Dima Hamadeh as part of 98weeks' ongoing reading group titled "Gender and Nationalism," led by Hamadeh.
 
Meral Çiçek was born in 1983 in a Kurdish guest-worker family in Germany. She started political and feminist activism at the age of 16 within the Kurdish Women's Peace Office in Dusseldorf. While studying Political Science, Sociology and History at the Goethe-University in Frankfurt she became an active member of the student movement there, joined the Autonomous Women's Department, and participated in seminars of the Cornelia Goethe Gender Studies Institute. A board member of the Kurdish Student's Union (YXK), she co-founded its women's section YXK-Jin. In 2013, Çiçek left her job as editor of the only daily Kurdish newspaper in Europe, Yeni Ozgur Politika, and moved to Southern Kurdistan (Northern Iraq) where she co-founded the Kurdish Women's Relation Office (REPAK).
 
Dilar Dirik was born in 1991 in Antakya and became a child refugee due to the political persecution of her Kurdish family, which was forced to flee to Germany. She holds a Bachelor's degree in History and Political Science and a Master's in International Studies. Currently, she is Ph.D. candidate in Sociology at the University of Cambridge. Her research focuses on the Kurdish women's movement, for which she is an activist. Dirik regularly writes for an international audience on the Kurdish freedom movement.