Talk
Salon Discussions
Thursday 7 April, 19:00 to 20:30
Free admission
Spaces limited, booking required. To book a spot, click here.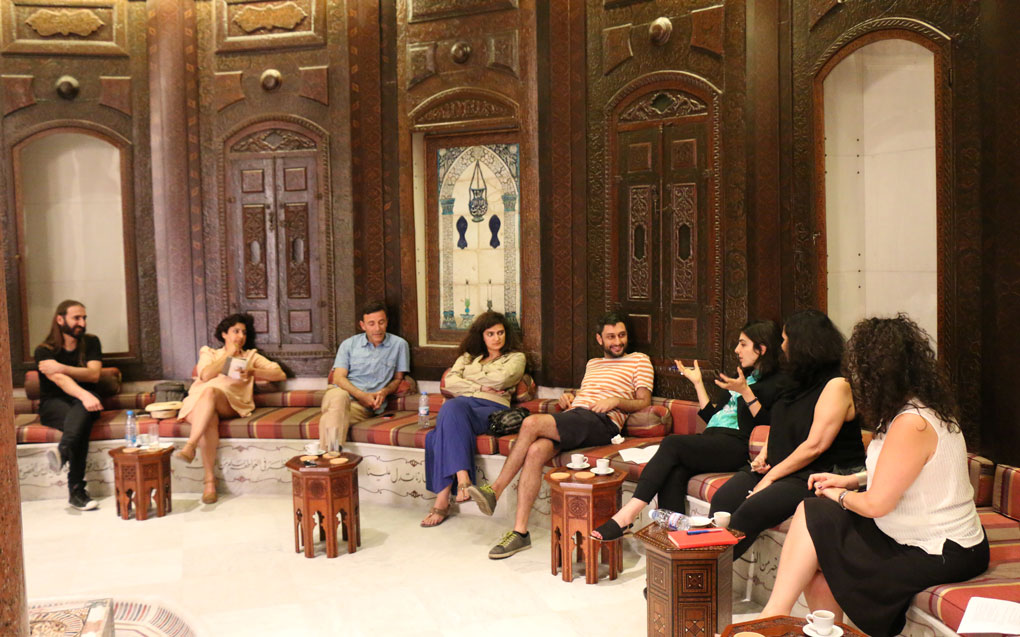 Copyright © 2015 Sursock Museum
The first in a series of Salon events where artists and cultural practitioners are invited to present and debate ideas central to the making and curating of art. Evoking the 19th century Salon, where topics ranged from science, to literature and art, these discussions will focus on ideas shaping and influencing visual arts practice today.
The first Salon Discussion will be moderated by independent curator Rachel Dedman. Dedman is currently curating the first satellite exhibition for the Palestinian Museum (West Bank) on the political history of Palestinian embroidery, opening at Dar el-Nimer for Arts and Culture (Beirut) in May 2016. The exhibition, At the Seams: A Political History of Palestinian Embroidery, sheds new light on Palestinian embroidery and the different social, historical, and political threads manifested through the material from the 19th century to the present day. In this discussion, Dedman will introduce the Palestinian Museum and raise questions on the challenges of curating politically sensitive materials, of representing contested histories in Palestine and Lebanon, and of conducting new research into subjects with established discourses and trajectories. She will also present a sneak peak of some of the materials selected for exhibition, and discuss her approach to curating textiles and oral culture.
Traditionally produced by the hands of everyday women, Palestinian embroidery has transformed aesthetically and symbolically alongside cultural and geopolitical movements over the last hundred years. The extensive research undertaken for the project is driven by the stories and perspectives of embroiderers across the region, whose voices are heard throughout the exhibition in newly-commissioned video from artist Maeve Brennan.
Rachel Dedman (b.1989, London) is an independent curator and writer based in Beirut, Lebanon. In 2016, Dedman is curating exhibitions for the Palestinian Museum, Ramallah; the Transart Triennale, Berlin; and Beirut Art Center, Lebanon. She is cofounder of the collective Polycephaly, currently working on a research forum funded by the Arab Fund for Arts and Culture. In 2015, she curated a multi-venue exhibition for apexart, New York, in Beirut, on outer space and science fiction, and was curator-in-residence at 98weeks, Beirut. Her writing has been commissioned and published by Ibraaz, Mosaic Rooms, Culture+Conflict, IAAC, and the Journal of Art Historiography, and she has received scholarships from Independent Curators International and the Getty Foundation. Dedman holds a First-class degree in the History of Art from St. John's College, Oxford, and was the Von Clemm Postgraduate Fellow at Harvard University, 2012-13, where she specialised in art from the Middle-East. In 2013-14 she was a participant of Ashkal Alwan's Home Workspace Program, Beirut.