Talk
Salon Discussions: Suzy Halajian
Thursday 25 May 2017, 19:00 to 20:00
In English
Free admission
Spaces limited. First-come, first-served.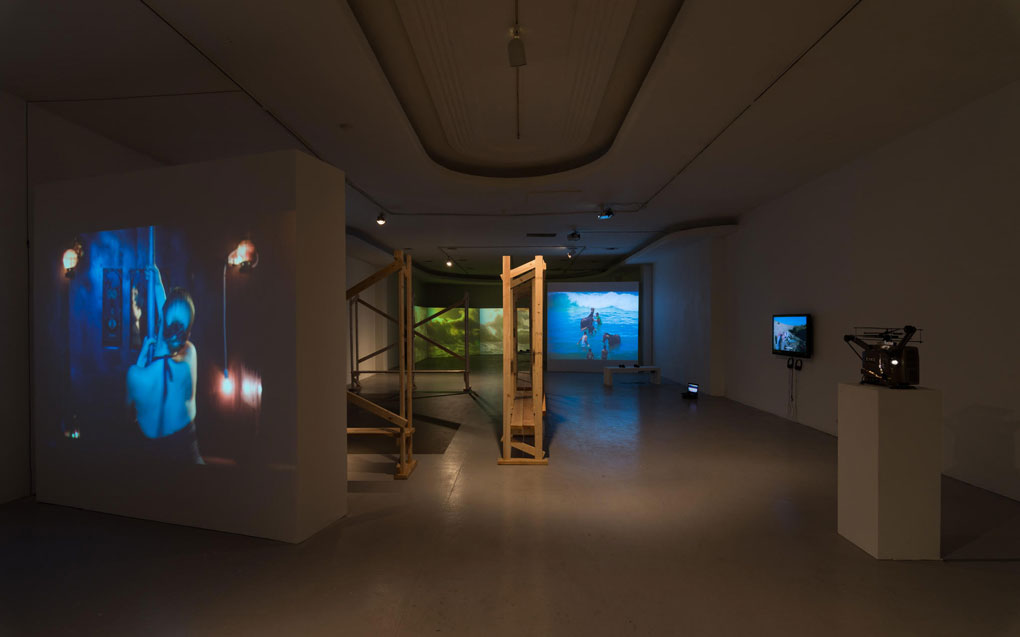 Installation view of "I can call this progress to halt" at Los Angeles Contemporary Exhibitions (LACE), Los Angeles
2017
Courtesy of LACE. Photo: Chris Wormald.
Curator Suzy Halajian presents I can call this progress to halt, an ongoing project that considers gestures of protest, unrest, and incendiary exchange as the starting point to a conversation.
I can call this progress to halt attempts to provide a space in which timely topics can sidle in as wanted companions through the lens of the visual. The project does not situate itself within a single locale, but rather considers a multiplicity of sites and temporalities through the layering of physical and imagined spaces.
The project opened with an exhibition and a series of screenings, presentations, and performances, which ran from March 8 to April 23, 2017 at Los Angeles Contemporary Exhibitions (LACE), and is followed by a film program at the Sursock Museum on June 29 and 30, 2017.
Exhibited artists included Ayreen Anastas and Rene Gabri, Marwa Arsanios, Alejandro Cesarco, Michelle Dizon, Shadi Habib Allah, Sharon Hayes, Jessika Khazrik, Rosalind Nashashibi, Nashashibi/Skaer, Georgia Sagri.
Screenings looped weekly included Chto Delat, Phil Collins, Jibade Khalil-Huffman, Maha Maamoun, Raqs Media Collective, Subversive Film, and Jalal Toufic.
Presentations/performances included Jessika Khazrik, Gelare Khoshgozaran, Dylan Mira, Joanne Nucho, and Kandis Williams with Josh Johnson.
For more information on the project at LACE, click here.
This event is part of an ongoing series of informal discussions in the Salon Arabe, where artists and cultural practitioners are invited to present and debate ideas central to the making and curating of art. Evoking the 19th century Salon, where topics ranged from science, to literature and art, these discussions will focus on ideas shaping and influencing visual arts practice today.
Suzy Halajian is a Los Angeles-based independent curator and writer. Her work begins at the intersection of art and politics, treating image making as steeped in colonial pasts and modern surveillance states. She recently curated I can call this progress to halt, Los Angeles Contemporary Exhibitions, Los Angeles (2017); At night the states, Hammer Museum, Los Angeles (2017); Harry Dodge: The Inner Reality of Ultra-Intelligent Life, Armory Center for the Arts, Pasadena (2016); The Closer I Get To The End The More I Rewrite The Beginning, Human Resources, Los Angeles (2015); Nothing is forgotten, some things considered, UKS, Oslo (2012); and Lawrence Weiner: Impeded Time, Galerie Hubert Winter, Vienna (2012). Halajian co-organizes the invitation of sorts talk series and serves on the Programming Committee of Human Resources. She has written for publications, including X-TRA, Ibraaz, Bomb, ArteEast, among others. In 2014, she received a Curatorial Travel/Research Fellowship from the Andy Warhol Foundation for the Visual Arts. Halajian holds an MA from the Center for Curatorial Studies at Bard College, New York, and a BA from the University of California, Los Angeles in Economics and International Relations.