Film Program
Screening: "Pre-Image (Blind as the Mother Tongue)," Hiwa K and "Riot," Rania Stephan
Part of Act II program of Tamawuj, Sharjah Biennial 13
Thursday 19 October, 19:30 to 20:00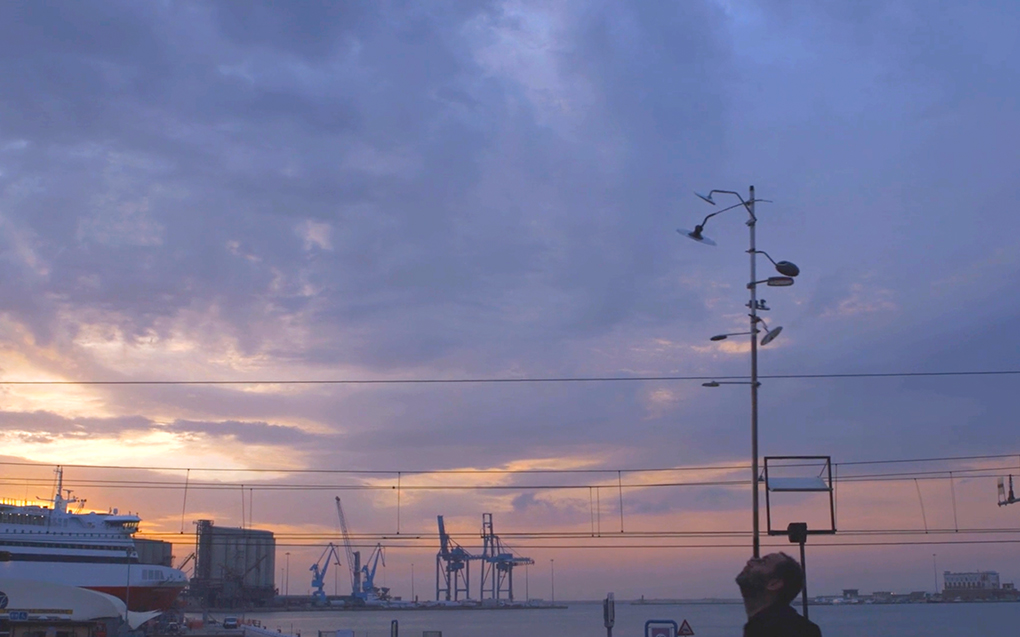 Pre-Image (Blind as the Mother Tongue)
2017
HD video, color, sound, 17'40''
Courtesy of the artist and KOW, Berlin
Pre-Image (Blind as the Mother Tongue)
Directed by Hiwa K, 2017
In English with Arabic subtitles
17'40"
As a member of the immigrant generation that illegally journeyed from Iraqi Kurdistan to Europe on foot, Hiwa K simulates an experience of walking through foreign territory by balancing an object made of motorbike mirrors on his nose. This "adaptation tool" acts as an extension of organs and senses, involving both the artist and viewer in a balancing act. As the artist adapts his movements to accommodate the balanced object, viewers are made to shift their perception in an attempt to make sense of the disorienting mirror images. In this manner, they catch glimpses of what Hiwa K calls "preimages," or fragments of a puzzled future that compel us to find our way without knowing in which direction we are traveling.
Hiwa K (b.1975, Kurdistan-Northern Iraq) studied informally and independently in his hometown, Sulaymaniyah, focusing on European literature and philosophy books that were available as Arabic translations. After moving to Germany in 2002, he became a music student of the flamenco master, Paco Peña. Hiwa K's work includes Chicago Boys (2010), Cooking with Mama (2006), and This Lemon Tastes of Apple (2011). His referential repository consists of stories told by family members and friends, found situations and everyday forms that are the products of pragmatism and necessity. Hiwa K participated in Manifesta 7, the 56th Venice Biennale, and documenta 14. He has participated in various group exhibitions such as La Triennale, Paris, and the Edgware Road Project at the Serpentine Gallery, London. His project, Chicago Boys, is continuously hosted by international institutions.
RIOT
Directed by Rania Stephan, 2017
In Arabic with English subtitles
7'
‪Riot is a visual reflection on bodies in spaces of contestation: how they emerge from a crowd, become singular, and then disappear again among the masses. A young man stands alone facing a line of young policemen, a woman dances with a flag in the middle of a crowd, an older woman gives a political speech, a demonstrator hides from a police water cannon behind a garbage bin. RIOT is a short glimpse of fleeting victories and enduring defeat.
Rania Stephan was born in Beirut, Lebanon and graduated in Cinema Studiesfrom LaTrobe University in Australia and Paris 8 University in France. She has directed short films, videos, and creative documentaries. Anchored in the turbulent reality of her country, her documentaries give a personal perspective on political events. She intertwines raw images with poetics, where chance encounters are captured with compassion and humor, using archival material as a source of inquiry in her work. In 2011, her first feature film,The Three Disappearances of Soad Hosni, received the Artist's Prize at the 10th Sharjah Biennale, the Renaud Victor Prize at FID MARSEILLE International Cinema Festival, and the Best Filmmaker Award at the Doha Tribeca Film Festival.
Pre-Image (Blind as the Mother Tongue) and RIOT were commissioned by Sharjah Biennial 13, as part of Tamawuj, Act II.