Talk
Seta Manoukian: Painting in Levitation
Book Launch and Panel Discussion
In collaboration with Kaph Books and Saradar Collection
Thursday 7 March, 18:30 to 21:00 
In English  
Free admission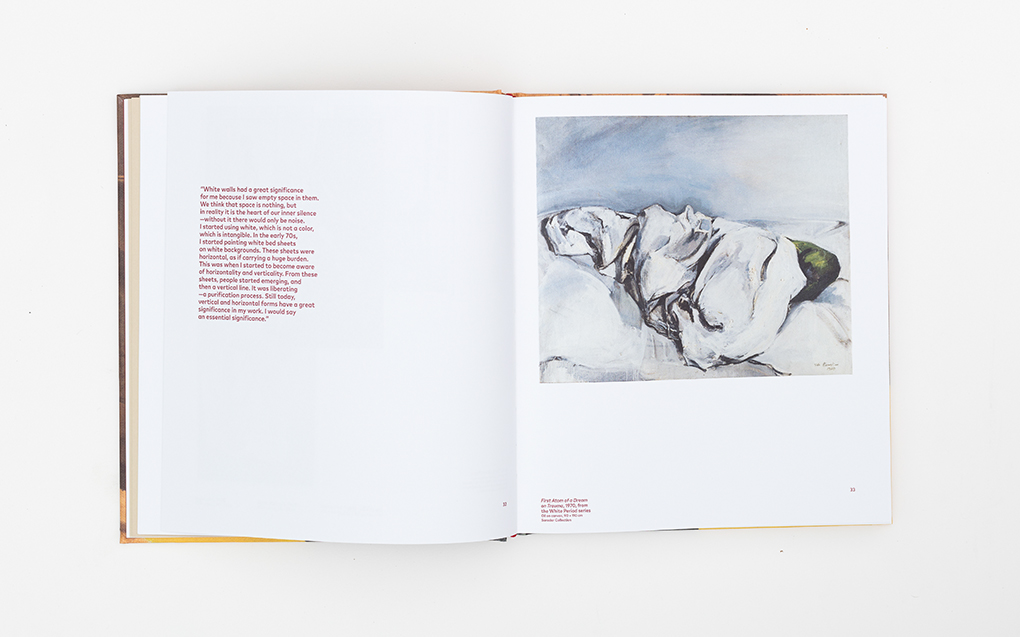 A spread from Seta Manoukian: Painting in Levitation.
Photo: Carl Halal. Courtesy of Kaph Books.
To mark the launch of Seta Manoukian: Painting in Levitation, join us for a conversation between Seta Manoukian, Gregory Buchakjian, and Kristine Khouri, moderated by Saleh Barakat at 18:30, followed by the book signing at the Sursock Museum Store.
Born in Lebanon in 1945, Seta Manoukian is a painter. Her early drawings reveal a sense of composition, a strong artistic hand, and an original talent. She was teaching at the Lebanese University when the Civil War broke out in 1975. After ten years of war in Lebanon, she fled to Los Angeles, California, where she still lives today as a Buddhist nun.
This publication looks back at Manoukian's work, focusing on her practice during the 1970s and 1980s. It includes essays by Gregory Buchakjian, Kristine Khouri, and Aline Manoukian.
Seta Manoukian: Painting in Levitation is co-published as part of the Saradar Collection x Kaph Books series.
Gregory Buchakjian is an art historian and visual interdisciplinary artist, Université Paris IV Sorbonne PhD, and Director of the School of Visual Arts at the Académie Libanaise des Beaux-Arts (Alba). His work focuses on cities and history with books such as Fouad Elkoury, Passing Time (Kaph Books, 2017) and Traversées Photographiques. Le journal du Docteur Cottard (Arab Image Foundation, 2017). In 2018, he released the publication Abandoned Dwellings: A History of Beirut (Beirut, Kaph Books, 2018, Valerie Cachard, ed.) and the exhibition Abandoned Dwellings: Display of Systems, curated by Karina El Helou, at the Sursock Museum.
Kristine Khouri is an independent researcher and writer whose interests focus on the history of arts circulation and infrastructure in the Arab world, and archival practices and dissemination. Together with Rasha Salti, she has co-curated Past Disquiet: Narratives and Ghosts of the International Art Exhibition for Palestine, 1978 shown at the Museu d'Art Contemporani de Barcelona (2015), Haus der Kulturen der Welt, Berlin (2016), and at the Museo de la Solidaridad Salvador Allende, Santiago (2018). Khouri also curated The Founding Years (1969–1973): A selection of works from the Sultan Gallery Archives at the Sultan Gallery, Kuwait (2012). Khouri has contributed to numerous publications and was a section editor for the publication accompanying the exhibition Time is Out of Joint (Sharjah Art Foundation, 2016). She is a member of the Arab Image Foundation, Beirut.
Saleh Barakat is the founder of Agial Art Gallery (1991) and Saleh Barakat Gallery (2016), which specialize in modern and contemporary art from the Arab world. He has curated numerous exhibitions, including The Road to Peace (2009) at the Beirut Art Center. He co-curated the first national pavilion for Lebanon at the 52nd Venice Biennale (2007) with Sandra Dagher. In 2006, he was nominated as a Yale World Fellow.