Film Program
Story Telling for Earthly Survival
Thursday 29 September, 19:00 to 21:00
In English
Free admission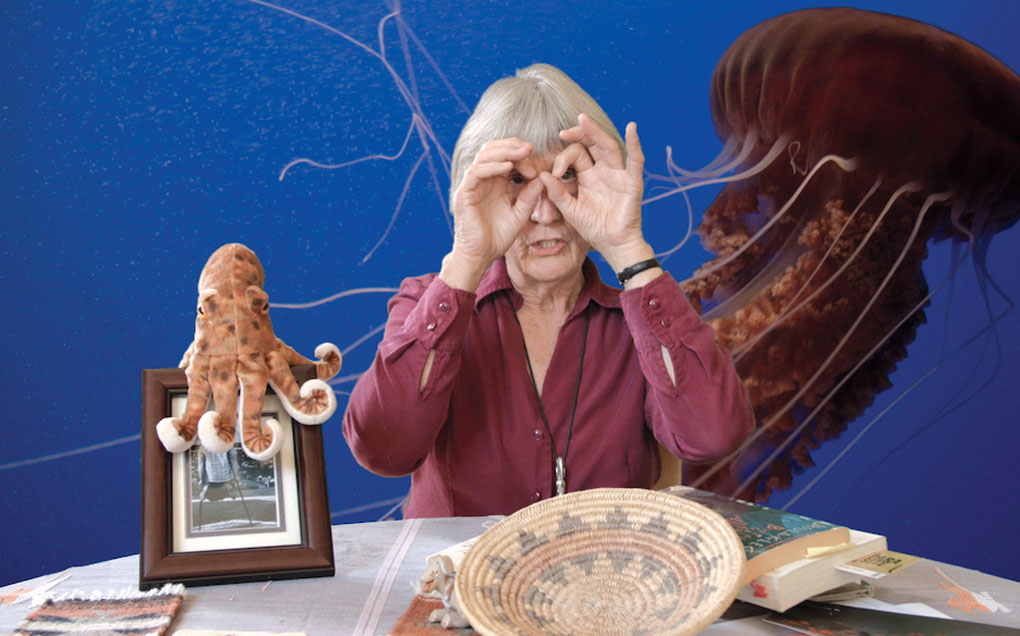 Donna Haraway: Story Telling for Earthly Survival
2016
Color, 90 minutes, English
Courtesy of the artist
Part of the public program of the exhibition Let's Talk About the Weather: Art and Ecology in a Time of Crisis, three recently produced films casting a fresh eye on our current environmental crisis will be screened. Exhibiting artist Pedro Neves Marques' short film Where to Sit at the Dinner Table? (2013), Susan Schuppli's Can the Sun Lie (2014), and Fabrizio Terranova's Donna Haraway: Story Telling for Earthly Survival (2016) with an introduction by the director. The publication Elements for a World: SKY will also be launched, with contributions by Pedro Neves Marques, Kapwani Kiwanga, Adrian Lahoud, Pelin Tan, and Omar Berrada & Sarah Riggs.
Can the Sun Lie?
Dir. Susan Schuppli, 2014
Color, 12 minutes, English
Can the sun lie? This was the question posed by the US Court in 1886 when reflecting upon the truth claims of photographic evidence. But as photographic practices became more commonplace and awareness of the ease of image manipulation increased, so too did doubts about their evidentiary value. Soon, photographic experts began to face each other in court and a new order of certainty appeared, produced by the domain of expertise. In the Canadian Arctic, the sun is setting many kilometers further west along the horizon and the stars are no longer where they should be. Sunlight is behaving differently in this part of the world as the warming Arctic air causes temperature inversions and throws the setting sun off-kilter. The longstanding dispute between lay knowledge and scientific expertise is forcefully re-animated by current climate change debates, particularly with respect to indigenous storytelling traditions. This is a reordering of expertise and its claims to truth that turn on the evidence proffered by nature itself.
Donna Haraway: Story Telling for Earthly Survival
Dir. Fabrizio Terranova, 2016
Color, 90 minutes, English
Donna Haraway is a prominent scholar in the field of science and technology, a feminist, and a science-fiction enthusiast who works at building a bridge between science and fiction. She became known in the 1980s through her work on gender, identity, and technology, which broke with the prevailing trends and opened the door to a frank and cheerful trans species feminism. Haraway is a gifted storyteller who paints a rebellious and hopeful universe teeming with critters and trans species, in an era of disasters. Brussels filmmaker Fabrizio Terranova visited Donna Haraway at her home in California, living with her – almost literally – for a few weeks, and there produced a quirky film portrait. Terranova allowed Haraway to speak in her own environment, using attractive staging that emphasised the playful, cerebral sensitivity of the scientist. The result is a rare, candid, intellectual portrait of a highly original thinker.
Where to Sit at the Dinner Table?
Dir. Pedro Neves Marques, 2013
Color, 28 minutes, English and Portuguese with English subtitles
Speculative in tone, this film-essay narrates the relationship between ecology and economics, from homeostasis to the need of growth in order for capital to expand. This cybernetic story is interrupted by tales about anthropophagous rituals in 16th century Brazil, an imaginary that builds the film's hypnotic images and soundtrack.