Talk
Swiss Art Talks: Thomas Hirschhorn
In partnership with the Embassy of Switzerland in Lebanon | With the support of Association Philippe Jabre
Thursday 2 June, 19:00 to 20:30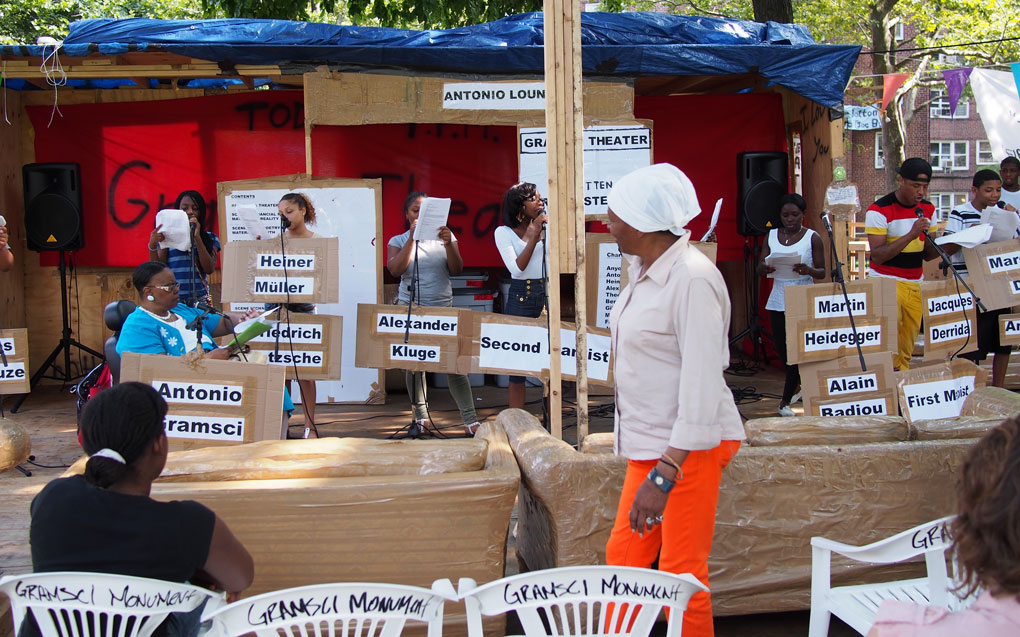 Gramsci Theater, Forest Houses, The Bronx, New York
2013
© Romain Lopez | Courtesy of Dia Art Foundation
In this talk, artist Thomas Hirschhorn speaks about the Gramsci Monument, the fourth and final in his series of "monuments" dedicated to major writers and thinkers, a project he initiated in 1999 with the Spinoza Monument, followed by the Deleuze Monument (2000), and the Bataille Monument (2002).
Constructed by residents of Forest Houses, the Gramsci Monument (2013) takes the form of an outdoor structure that consists of numerous pavilions, including an exhibition space, an adjoining library holding 500 books by (and about) Gramsci, a stage, a workshop area, an Internet corner, a lounge, and the Gramsci Bar – all of which are overseen by local residents.
Hirschhorn will discuss how the "monument" became a place where "the question of Art, its meaning, its power of transformation, its impact, the question of audience and the question of the form of Art were posed, and engaged [me] every minute, every hour, every day."
Thomas Hirschhorn lives and works in Paris, France. He uses everyday and found materials such as plastic sheeting, cardboard, aluminum, packing tape, and magazine images to create a dystopian reality. His work has been exhibited at the Venice Biennale (1999 and 2015), the Swiss Pavillion at the 54th Venice Biennale (2011), La Triennale at Palais de Tokyo, Paris (2012), the 9th Shanghai Biennale (2012), Gladstone Gallery, New York (2012), Manifesta 10, Saint-Petersburg (2014), Atopolis Mons, Belgium (2015), and South London Gallery (2015).