Talk
Swiss Art Talks: Ursula Biemann
In partnership with the Embassy of Switzerland in Lebanon | With the support of Association Philippe Jabre
Friday 15 July, 19:00 to 21:00
In English
Free admission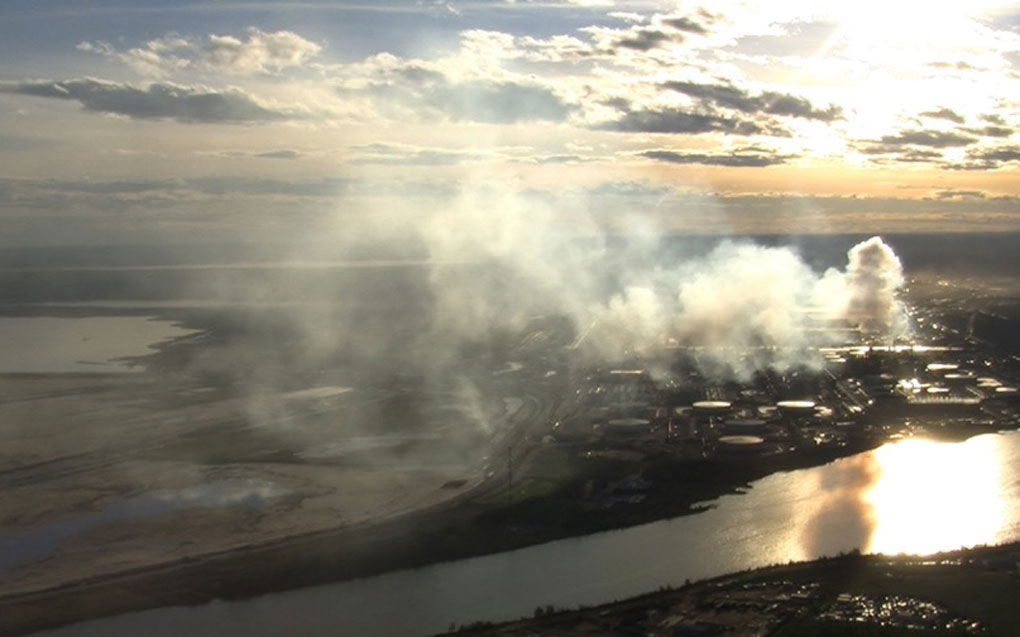 Deep Weather (film still)
2013
9 minutes, English
Courtesy of the artist
A screening and discussion with video artist Ursula Biemann of her speculative video essays Deep Weather (2013) and Subatlantic (2015). The talk addresses the discursive intersection of geology and climatology merged with human politics and history, as well as her practice of essayistic storytelling and creative imaging.
Subatlantic (2015)
HD, Color, 11 minutes, Stereo, English
The science fictional video essay unfolds across the Subatlantic, the latest climatic phase of the Holocene that began about 2,500 years ago and is still ongoing. With its peaks and drops, this climatic period has registered major civilizational changes and movements, juxtaposing the science of geology and climatology with human history.
Deep Weather (2013)
9 minutes, English
Deep Weather comprises "Carbon Geologies," set in the tar sands of the boreal forests of Northern Canada, and "Hydro Geographies," set in the near-permanently flood-threatened Bangladesh. The connection is pursued through two narratives, one about oil, the other about water – vital "ur-liquids" that form the undercurrents of all narrations as they are activating profound changes in the planetary ecology.
Ursula Biemann and Paulo Tavares are showing Forest Law (2014) as part of the exhibition Let's Talk About the Weather: Art and Ecology in a Time of Crisis.
Ursula Biemann is an artist, writer, and video essayist based in Zurich, Switzerland. Her research-oriented artistic practice involves fieldwork in remote locations, where she investigates climate change and the ecologies of oil and water. Recent projects include Egyptian Chemistry (2012), Deep Weather (2013) and Forest Law (2014). Her earlier work focused on geographies of mobility, specifically in the widely exhibited Sahara Chronicle on clandestine migration networks. Her video installations have been exhibited worldwide in museums and at international art biennials in Liverpool, Sharjah, Shanghai, Sevilla, Istanbul, Montreal, Venice, and Sao Paulo. Biemann is part of the collaborative World of Matter project (worldofmatter.net), and received the 2009 Prix Meret Oppenheim, the national art award of Switzerland.