Film Program
A Wakeful Rest: Voices for Palestine
In collaboration with Festival Ciné-Palestine
In the framework of Queer Cinema for Palestine
Thursday 11 November, 19:00 to 20:00
In English & Arabic
Free entry
To book a spot, click here.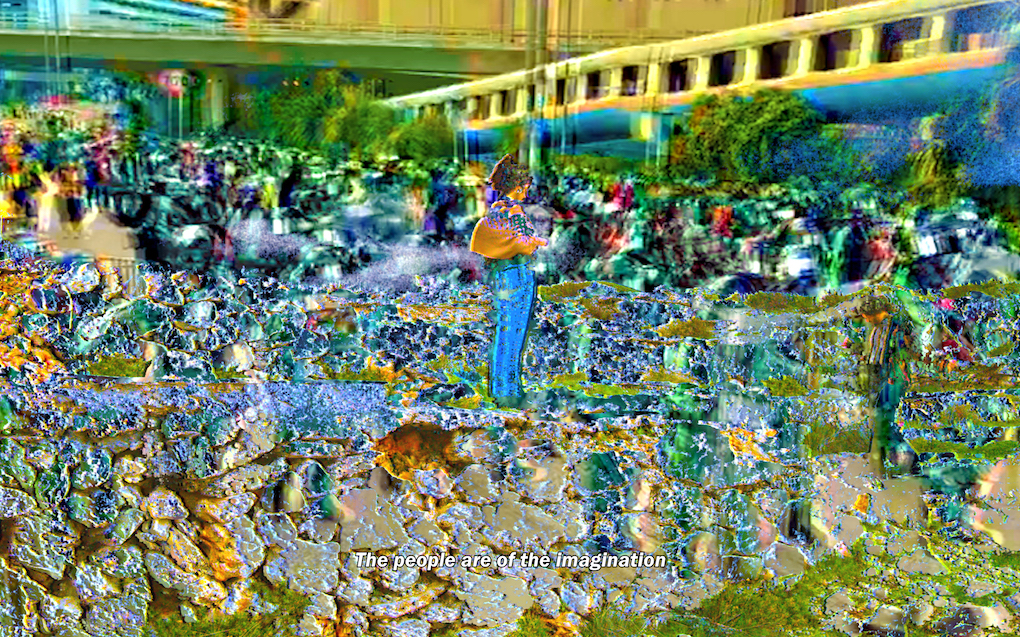 Congress of Idling Persons
2021
Film Still
The Sursock Museum and the Festival Ciné Palestine are collaborating for the first time to present a series of films and an online collective masterclass in the framework of the first edition of the Queer Cinema for Palestine Festival..
Join us on Thursday November 11 at 7pm for a screening of films by Bassem Saad, Shuruq Harb, and Basma Alsharif. The next day, on Friday November 12, we will be organizing an online collective masterclass with the filmmakers where we will be joined by researcher Islam al-Khatib.
!!! Due to limited capacity, please book your ticket here on the eventbrite platform !!!
Congress of Idling Persons
Dir. Bassem Saad, Lebanon
36', 2021 
The film features five interlocutors who play themselves and greater fictions, in the shadows of recent world-historical events. Artist and writer Bassem Saad, DJ and translator Rayyan Abdel Khalek, musical artist Sandy Chamoun, writer Islam Khatib, and organiser Mekdes Yilma⁠ examine a cartography of protest, crisis, humanitarian and mutual aid, migrant labour, and Palestinian outsider status. If a group action is a riot and not a revolution, then who films it? If four is a riot, it is also a congress.
The White Elephant
Dir. Shuruq Harb, Palestine
12', 2018
Using images shared on the Internet by Israelis during theGulf War, the First Intifada and trance music gatherings, The White Elephant de-composes the portrait of a Palestinian teenager in the 1990s, through the distorted mirror of Israeli pop culture.
O, Persecuted
Dir. Basma Alsharif, Palestine
11', 2014
"In O, Persecuted, Alsharif offers an occluded view of the restoration of Kassem Hawal's 1974 work of Popular Front for the Liberation of Palestine agitprop, Our Small Houses, before launching into a rapid-fire montage of decadent Israeli party photos, set to a pounding gabba soundtrack. Despairing at the contrast between the certainties of the past and those of present, Alsharif suggests an effort to shatter the former through the recapitulation of the latter." - Colin Beckett for the Brooklyn Rail
Queer Cinema for Palestine (QCP) is a collectively-curated 10-day global film festival celebrating queer realities and standing in solidarity with the struggle of the Palestinian people for freedom, justice, and dignity.
The Sursock Museum 2021-2022 Public Program is supported by the Lebanon Solidarity Fund launched by the Arab Fund for Arts and Culture – AFAC and Culture Resource (Al-Mawred Al-Thaqafy).