Tour
Walk and Picnic in Horsh Beirut
Saturday 1 October, 11:00 to 14:00
In Arabic and French
Free admission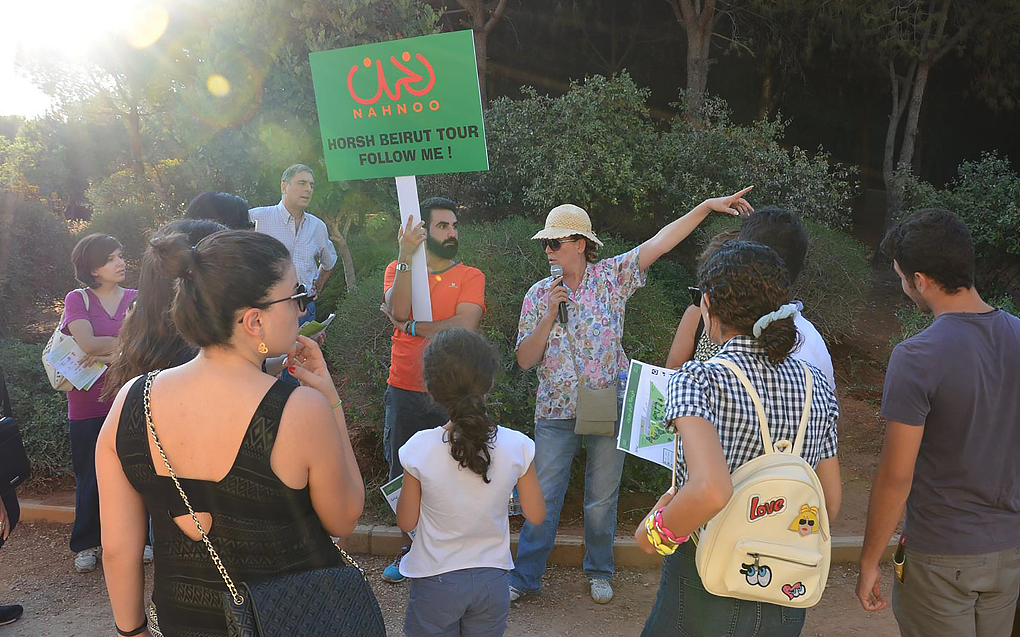 © NAHNOO
The Horsh is one of the only public green spaces in Beirut. Discover the park and its history through a tour and series of activities for all ages led by Lebanese ecological activist Zahra Wahid and NAHNOO, a youth-led organization that was involved in the park's reopening. Programmed in conjunction with the exhibtion Let's Talk About the Weather: Art and Ecology in a Time of Crisis, the tour includes information on the history and future of the Horsh, as well as details about the native and recently introduced flora and fauna. During the tour, Wahid will lead group activities aimed at heightening our senses of perception in relation to the park and its surroundings. The tour will end with a collective saj meal and a conversation. 
An essential public and green space in Beirut, Horsh Beirut is centrally located on the southwestern side of Ashrafieh near the Tayouneh Roundabout and the Beirut Hippodrome. The park closed in 1992 after encountering extreme loss during the prolonged political disruptions. Ten years ago, the park underwent a renovation with renewed planting, but remained inaccessible to the public at large. Horsh Beirut partially reopened its gates to the city in 2015, and then daily in 2016 after years of campaigning by NGOs and activist groups. In the 17th century, the pine forest extended from Badaro to Ramlet el Bayda and covered 1,300,000 square meters of the city. Today, alongside the pines and the variety of birds, new types of flora and fauna are introduced to the triangular park, which currently takes up 333,000 square meters. The park is run by the Municipality of Beirut, and is looked after by the Ministry of Agriculture and other authorities.
Zahra Wahid is a Lebanese ecological animator and instructor in environmental education, well-known for leading nature tours and workshops for all ages at Horsh Beirut. She has worked extensively with youth in universities and at the day school she ran that focused on the city's green history, even prior to the reopening of the park. In her talks, she shares the history of Horsh Beirut, its ecological qualities, and the criticality of the park as a public space. Wahid has worked with T.E.R.R.E. Liban and NAHNOO.  
NAHNOO is a youth-led organization that aspires to provide a platform for youth to engage in activities that promote self-expression, self-development, and civic engagement. It is specialized in leading advocacy campaigns for reclaiming public spaces and adopting inclusive policies for the development of Lebanese cities. It is most notably leading the campaign for the reopening and reactivation of Horsh Beirut since 2011, and the campaign for the rehabilitation of Ramlet Al Bayda as a safe, clean, and entirely public beach since 2014.