Talk
The Album Series
Parcours de choses, sur la charge des objets et la matière à l'œuvre
Thursday 28 February, 19:00 to 20:30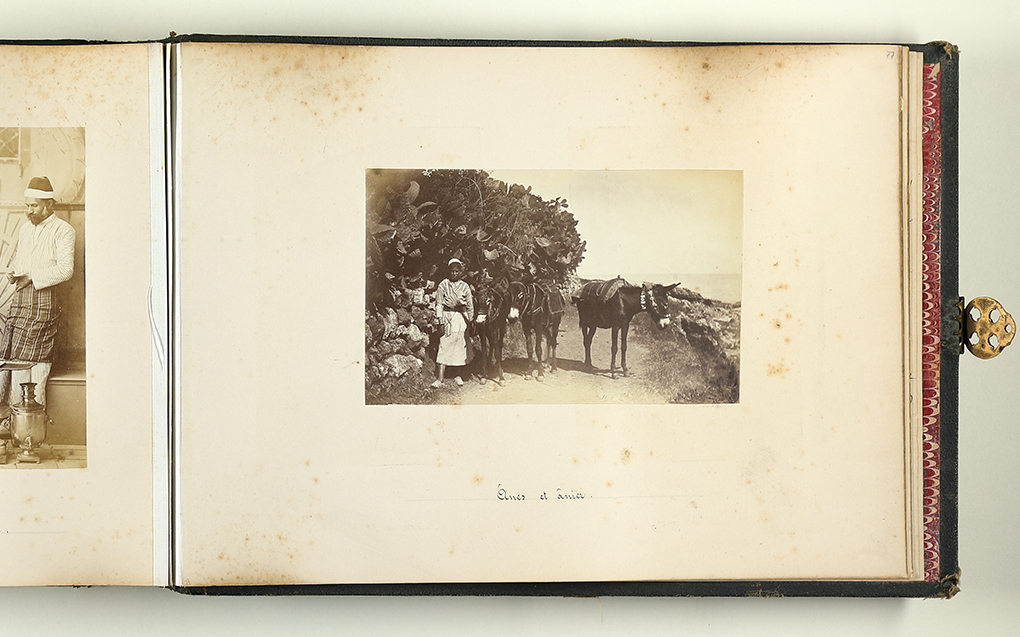 Jean-Baptiste Charlier-Béziès
Souvenirs d'Orient
Circa 1875
TFDC_133
The Fouad Debbas Collection / Sursock Museum
The exhibition La Fabrique des illusions marks the occasion of launching a talk series on photographic albums. Physical albums from the Fouad Debbas Collection will be presented and read by artists and practitioners as an activation of the objects. These presentations will invite us to explore new ways of perceiving the photographic album. Through them, one can trace the development of photographic practices in the region and their representations in social, political, and artistic realms.
In this program, Clémence Cottard Hachem presents a reading of a photo album produced in Beirut at the end of the 19th century: Jean-Baptiste Charlier-Béziès, Souvenirs d'Orient, circa 1875, TFDC_133.  
Through a biographical approach, this reading invites us to explore new ways of looking at, and speaking about 19th century photographic albums. Beyond the repertories of forms, power relations and the commercial intentions inherent to and encouraged by Orientalist photographic production of the time. How an object, its materiality and path can be reread to open up new channels of research? And here yet, during the time of the reading, becoming an object-actor, an agent of thought, knowledge, interaction and attachment, tracing the development of photographic practices in the region and their first artistic flowerings. 
These talks are programmed in parallel to the exhibition La Fabrique des illusions : Collection Fouad Debbas et commentaires contemporains, curated by François Cheval and Yasmine Chemali, on view from 22 February to 12 May 2019.
Clémence Cottard Hachem is the Head of Collections at the Arab Image Foundation, Beirut. Her research focuses on photographic practices and techniques of the 19th and 20th centuries. Through the questions of mechanical production, diffusion, usages, and reception, she interrogates the ontology of photography to gain a better understanding of the practice today. Cottard has collaborated with numerous museums, including the Grand Palais and the Jeu de Paume. Since 2012, she is devoted to conserving and studying photographic collections in the region.