Talk
City Walls and Sites of Protest
Wednesday 7 March, 19:00 to 21:00
In English
Free admission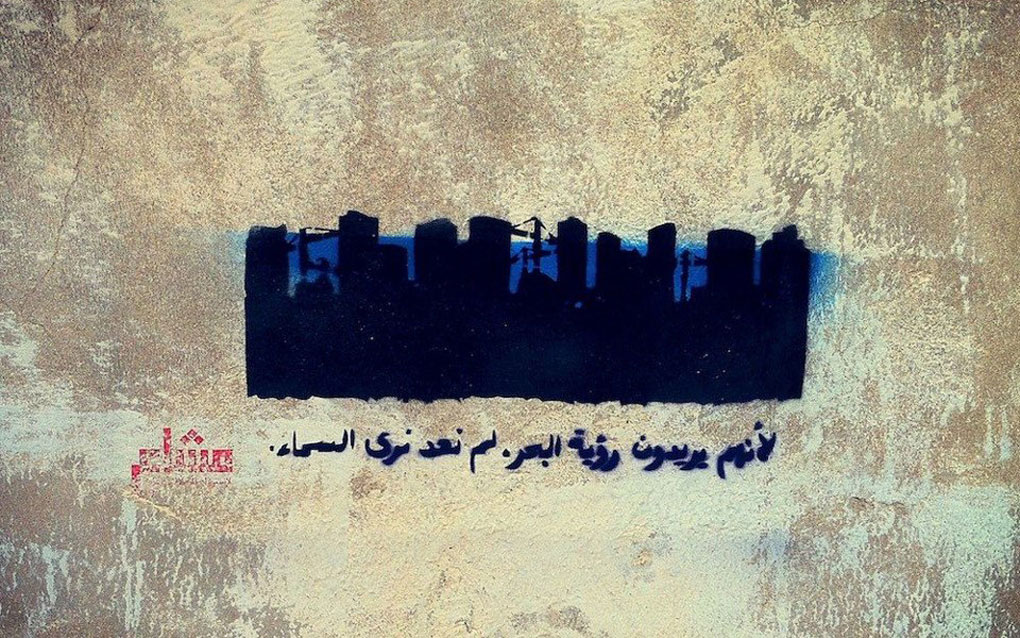 "Because they want a view on the sea, we can not see the sky," Mashaa campaign 2012
Join us for a panel discussion that reflects on the changing nature of graphic languages expressing social and political commentary in postwar Beirut, specifically on the practices of drawing and tagging culture. Panelists are Hatem Imam, Hamed Sinno, and Jana Traboulsi. The discussion will be moderated by Rasha Salti.
Caricatures are deeply embedded in the local intricacies of a political moment and its parlance, allegories, and figures of speech. They are ephemeral because they become practically undecipherable once that moment has lapsed and its speech forms fallen in obsolescence. Sometimes, the sort of "translation" necessary for explaining a ten, fifteen, twenty, or even older, caricature is not only linguistic and cultural, but also historical, and is contingent upon the context of the event or action that the drawing is commenting on.
Caricature is also a meta-language intended for subversive/provocative social and political commentary. The postwar era witnessed a new phenomenon: graphic artists who were either students or fresh graduates claimed the city's walls to inscribe subversive and provocative social and political commentary, using drawings and keywords in addition to a number of different techniques. This first generation of "tags" was conceived to denigrate the appearance of a wall and neighborhood, and to offend taste and manners. The walls became tightly policed, the "taggers" becoming at risk of being jailed or assaulted by police, and their "tags" systematically painted over. Over time, "tagging" became graffiti that was sponsored by advertising agencies and banks, and was tamed to become asinine "public health" or "social wellbeing" admonishing.
This discussion is programmed in parallel with the exhibition Pierre Sadek: Picturing History.
Hatem Imam is a visual artist and graphic designer. He holds a BFA in Graphic design from the American University of Beirut (AUB) and an MA in Fine Arts from the University of Creative Arts in Canterbury, UK. He is the cofounder and creative director of Studio Safar, editor-in-chief of Journal Safar, a cofounder of Samandal comics, and the artistic director of Annihaya record label. He has been teaching at the department of Architecture and Graphic Design at AUB since 2007.
Hamed Sinno is a Beirut-based musician, poet, graphic designer, and LGBTQ+ rights advocate. He has been the vocalist for Mashrou' Leila since 2008, and for The Butcher's Bride since 2017. He sits on the advisory board for the Artistic Freedom Center based in Los Angeles. His work explores the intersections of gender, race, and language. He writes and lectures about the convergence of music and social justice.
Jana Traboulsi is a designer, illustrator and artist. She also teaches since 2004. Her work focuses on image making as critical commentary, often bridging between the personal and the socio-political. She is the art director of the pan-arab quarterly Bidayat and the Lebanese publishing house Snoubar Bayrout. Since 2014, she has co-founded the art collective Sigil.
Rasha Salti is an independent writer and curator of art and film, living between Beirut and Berlin. Since 2017, she is the commissioning editor for La Lucarne at ArteFrance, a program dedicated to experimental documentary.