Talk
On folklore and theater
Saturday 21 September, 16:00 to 17:30
In English
Free admission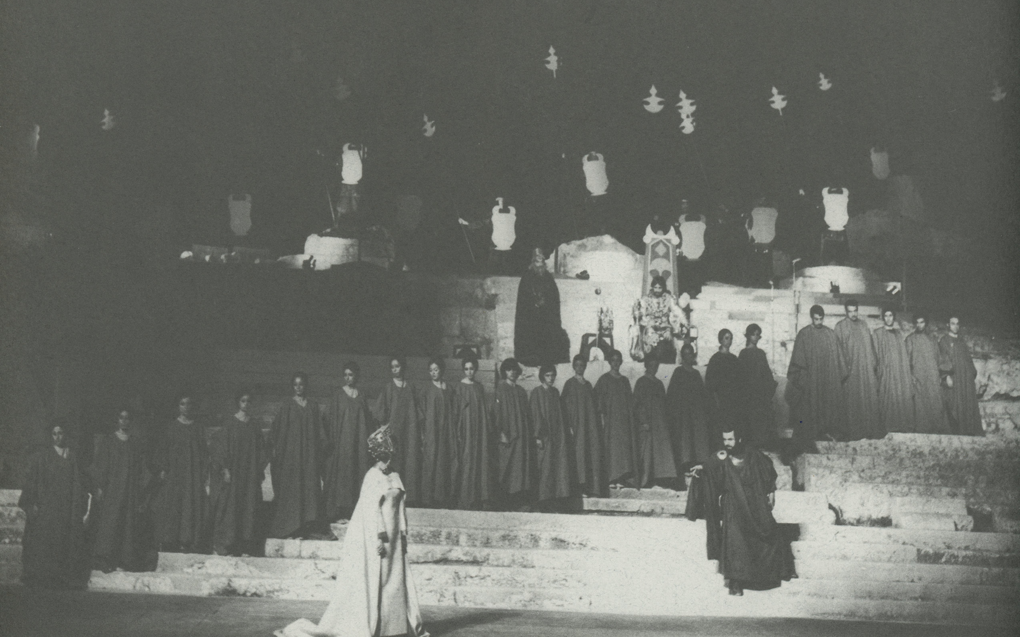 Fairuz and the Lebanese Popular Troupe
La Gardienne Des Cles
1972
Composed by the Rahbani Brothers. Directed by Sabri Sherif. The Lebanese Nights.
Image published in: Comité du festival international de Baalbeck. "Baalbeck : les riches heures du festival." Beyrouth: Editions Dar an-Nahar, 1994.
Please join us for a presentation by Akram Rayess, followed by a conversation with curator Vali Mahlouji, investigating the role of the Baalbeck International Festival in promoting and energizing local Lebanese theater.  The presentation will trace the trajectory of the Lebanese Nights (1957-1994) with comparisons to the Modern Arab Theater (1960-1974). Rayess will reflect on the perception and institutionalization of folklore brought forward by the Lebanese Nights and its integration of music, singing, dance, and customs. This will be comparatively framed with selected international festivals of relevance and current practices as windows to possible future paths.
This talk is programmed in conjunction with the exhibition Baalbek, Archives of an Eternity, curated by Vali Mahlouji and on view until 22 September 2019.
Akram Rayess is a researcher in ethnomusicology with interests in music of the Levant, music theater, cultural development, modern heritage, and documentation. He is a founding member of the Foundation for Arab Music Archiving and Research (AMAR), a steering Committee member of the Modern Heritage Observatory (MoHO), consulting committee member of the quarterly cultural journal Bidayat and a member of PEN Lebanon. Within the framework of these organizations, he has conducted projects related to modern heritage, music in Lebanon and Egypt, and archiving. Rayess is also a development consultant and a management trainer. Selected publications include  The Breathing Walls of Beirut's Grand Theatro: A Sci- Fi Novella, Rusted Radishes, 2017;  A dossier in Arabic about Zaki Nassif, Bidayat Magazine, 2016; Private Space, Public Sound: Towards a Fairuz Museum in Zoukak el-Blat, Divercities Conference, Orient-Institut, Beirut, 2014; Selected Papers of Zaki Nassif, AUB Press, 2014; Interdisciplinary dossier about Ziad Rahbani, Adab Magazine, 2009, 2010.
Vali Mahlouji is a London-based curator, founder of Archaeology of the Final Decade, independent advisor to the British Museum, and director of Kaveh Golestan Estate. Mahlouji's recent work includes exhibitions at Foam Fotografiemuseum Amsterdam; Musée d'Art Moderne de la Ville de Paris; MAXXI Museo nazionale delle arti del XXI secolo; Whitechapel Gallery; Photo London; Prince Claus Fund; Singapore International Festival of Arts; Art Dubai Modern; Bergen Triennial; Open Eye Gallery; Dhaka Art Summit 2018; SAVVY Contemporary; and Garage Museum of Contemporary Art, Moscow. Mahlouji has been published by various institutions, including Neue Nationalgalerie, Berlin; Guggenheim Museum; National Museum of Contemporary Art, Athens; Photo London, Encyclopædia Iranica, Columbia University; Asia Society Museum New York; Sharjah Biennial; and City University New York. Recent talks and lectures by Mahlouji have taken place at Stanford University; Yale University; Goldsmiths University; SAVVY Contemporary, Berlin; Para Site, Hong Kong; Garage Museum of Contemporary Art, Russia; Kultuforum, Berlin; Lahore Literary Festival; Irish Museum of Modern Art; Bergen Assembly; Asia Society, New York; Whitechapel Gallery; and the British Film Institute; among others.